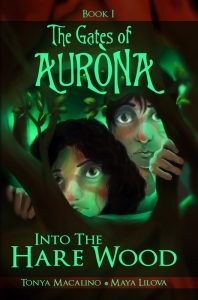 The family curse just slipped out of the shadows and into their backyard…
Instead of spending summer break splashing in the pool, Hannah and Cameron Troyer find themselves solemnly guarded by ranks of neighborhood cats and haunted by a madman from the woods.
Did Dad forget to tell them something about their ancient Italian ancestors?
And can Hannah and Cameron unravel the secret on their own before the madman takes his revenge? "Clang, clang, clang: The sword against the golden gate. The treasure waits within."
Click now to join the Troyers in Book One of the Gates of Aurona series!
Recommended for ages 8-12. "reminiscent of the Chronicles of Narnia or the Dark is Rising series…
Into the Hare Wood is charming from the outset." – Portland Book Review
"Engaging, imaginative, and just the right amount of spooky!" – LyP, Amazon Reviewer