Book review: Pilot Jane and the Runaway Plane
I was really happy to win a copy of Pilot Jane and the Runaway Plane recently in a giveaway on GetKidsIntoBooks. I thought it looked like a great story to share with the grandchildren. Here's how we got on.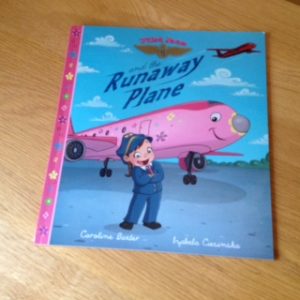 My grandson is into planes at the moment. His favourite toy is "Dusty Crophopper" 🙂 So he was excited to see a new book about a plane. He wasn't bothered that the plane was pink and flowery in the slightest but I was a little surprised by it's colour given the books clear attempt to challenge gender stereotypes.
The illustrations are bright and colourful with enough detail for us to talk about, and I loved the characterization of Pilot Jane. Grandson is also a big fan of rhyming text, so that was another point in the books favour.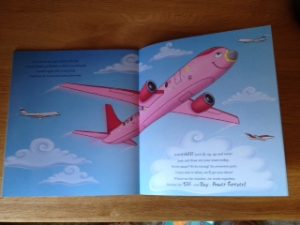 The Pilot Plot
The story tells how Pilot Jane and her plane, Rose, go on lots of exciting journey's. They earn such a great reputation that the Queen asks them to fly her to a party.  Unfortunately, Rose eats 'cake fuel' the night before and wakes up with 'plane flu.' which means that Jane has to take the Queen in 'Mighty Mitch'.
Naughty Mighty Mitch is cross that his new pilot is a girl.
Mitch groaned: "A girl pilot! Bother and drat!

I'll bet she's slow – or a big scardey cat!"
He starts to behave badly to scare her and to show off. (Grandson liked that he was naughty lol) But there's a storm coming and that's where things start to go wrong. Happily, Pilot Jane has the necessary skills to bring the situation under control and the pair ends up working together and becoming friends.
The story kept grandson's attention the whole time. He insisted on a second and third reading straight away and asked, "Where's the new book about the plane?" on his next visit. That makes Pilot Jane a definite hit.
Despite the message – girl's can be pilot's too – the last line was particularly good.
Whatever the weather, we work together,

Hurray for Girl – and Boy – Power Forever.
Final verdict
After the 'girl bashing' in the book I reviewed last, it was nice that the story fostered some much needed gender co-operation. In fact, I grew to like the pink plane. This was a book that showed girls can be girly, as well as strong and able.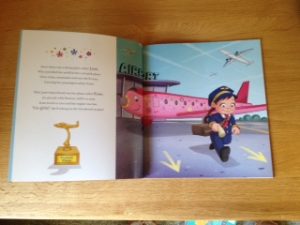 British Books Challenge
Pilot Jane and the Runaway Plane is written by Oxford-based writer, Caroline Baxter so it was a perfect choice for my British Books Challenge.  You can read my previous reviews here.
Suzie xx
---
---
---