Do you struggle to persuade your child to buckle up their seat-belt?
---
Ollie doesn't want to sit in his car-seat or wear his seat-belt until Mum shows him some of the supercool things people can do while using a seat-belt to keep them safe.
---
Better Buckle Up is available in paperback and ebook. Members of Kindle Select can read it for free.
---
As parents, we spend a lot of time and money choosing the safest car seats and installing them properly to keep our children, our most precious cargo of all, protected in case of accident. But our little ones don't always appreciate our efforts. Some kick and scream and hate being pinned down.
We used to call my grandson's car seat the 'chair of doom' because he hated being strapped in so much. 'Better Buckle Up' was my answer to the problem.
Now he chants Better Buckle Up everytime he sits in his seat.
---
Get your copy of Better Buckle Up here
---
With bright, colourful illustrations from PlainSightVFX and a repeating text that children love, Better Buckle Up is a fun book for pre-schoolers (whether they like to wear their seat-belt or not).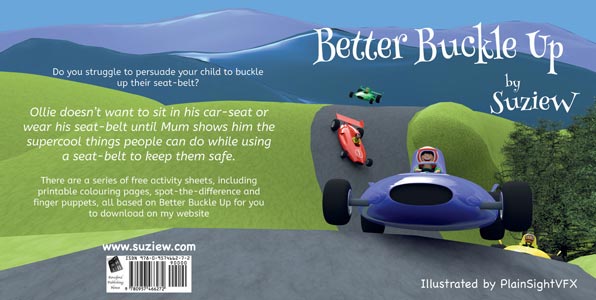 Better Buckle Up is available in paperback and e-book.
---
Get your copy of Better Buckle Up here
---