Book review: Ghosters by Diana Corbitt
Kicking off the 2020 book reviews here on my blog is Ghosters, a middle-grade novel, by Diana Corbitt.
The Blurb

Filled with scares, mystery, and plenty of humor, Ghosters tells what happens to twelve-year-old Theresa Martinez and her autistic brother, Joey, when their mom suddenly dies and money problems force the family to move into a creepy old mansion.

Her dead grandmother's creepy old mansion.

Enter Theresa's new ghost-obsessed friend, Kerry. Eager to use her ghost-hunting technology, Kerry suggests they enter a reality TV show's video contest. "If we win, we both get what we want," she tells Theresa. "You earn money for your family. I record an actual ghost."

And why not try? The place is definitely haunted.

Hey, what could happen?
My random thoughts on Ghosters.
Ghosters was a surprising story in many ways.
This is not a book about silly children chasing what they think is a ghost and it turns out to be shadows at the window, or something equally boring. Ghosters turned out to be an actual ghost story.
As this is a ghost story, there are some spine-tingling scary passages, although there are some funny bits too. However, it is the cast of well-rounded characters dealing with very real issues of grief and living with Asperger's syndrome that makes this book stand apart from others: it wasn't really what I was expecting.
I also didn't see the twist at the end coming, and this added another (unexpected) layer to the story.
Whilst not wanting to give spoilers, I did wonder whether it would have been possible for the protagonist's father to have kept the 'secret' without her suspecting, but I'm considerably older than the 9 – 12 years target audiences, so they probably wouldn't be as skeptical as me.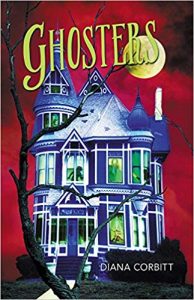 All the characters were flawed and believable. Theresa was especially well-written. One minute she was taking on the role of care-taker for the family, the next she was doing things that made you remember she was actually only 12 years old. Good stuff.
Final notes
This is a great ghost story that I enjoyed. Diana Corbitt has three other books in the series too, so young readers can follow Theresa, Kerry and Joey on their adventures.
Happy Ghosting!
Suzie xx
---