Giveaway Ends Today!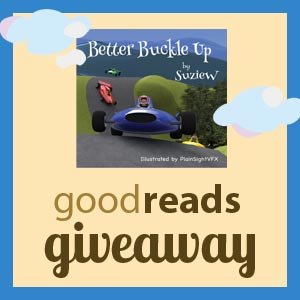 Today is your last chance to win an autographed copy of Better Buckle Up in the Giveaway over on Goodreads.
Entry is free and open to people all over the world. Although you do have to be a member of Goodreads, signing up is free and easy too.
Better Buckle Up is a children's picture book that aims to make car safety fun. You can find out more here but this is what people are saying.
The colourful illustrations are delightful and add a level of humour for the parent to enjoy, while reading the story with their young family.   Callie Carling
A delight for parents and children.     Murboyd
This book does an excellent job reinforcing the importance of buckling up … in a manner that empowers the child to choose and cooperate.    L. Favreau
A very clear and positive message, in a captivating story.    P. Edwards
The winner will be chosen by Goodreads when the competition closes at midnight on 21st June.
So click on the form underneath for your chance to win.
Good luck.
Suzie xx
Ends June 21, 2016.
See the details
at Goodreads.