Win an autographed paperback copy of  "Things Evie Eats" on Goodreads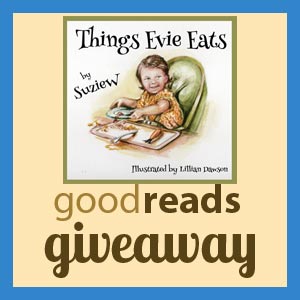 My giveaway on Goodreads for you to win an autographed copy of "Things Evie Eats" ends today, 23rd August.
Entry is free and open to people all over the world. Although you do have to be a member of Goodreads, signing up costs nothing and it's easy too.
Find out more about "Things Evie Eats" here but this is what people are saying.
Adorable, charming, laugh out loud book for children and parents.  Murboyd

Its a perfect combo of old and new styles with a delightful and funny storyline. P. Edwards
The winner will be chosen by Goodreads when the competition closes at midnight. So don't hang about, click on the form underneath and a shiny new paperback could be winging it's way to you very soon.
Good luck.
Suzie xx