A.A Milne's Winnie the Pooh books are such classics and they must be as popular today as they've ever been because I had nearly 1500 entrants in my January Giveaway – a record number for me.
Anyway, onto the business of announcing the winner.
The winner of the Winnie the Pooh Giveaway is…
*** Chris Fredlund ***
Chris, if you can get in touch with your address, I'll post the books out to you straight away.
Snowy Wales
We've had a few days of snow here in Wales, so I thought I'd share the view out of my back gate.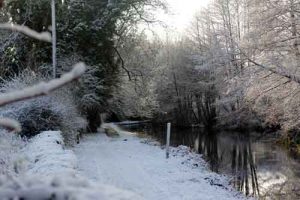 Stay warm and happy reading.
Suzie xx
---