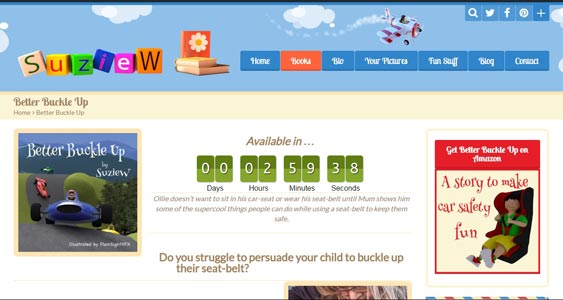 Pre launch Panic.
Well, I'm looking at the countdown timer for the launch of Better Buckle Up and having a pre launch panic.
Two hours!
This was not the post I was expecting to write. I thought I had things organised so early on. But the print version has been beset with problems. I had to lighten the picture files as they were too dark and I changed the binding from saddle stitch to perfect bound, so that delay was my fault. But, having been told by the printer that the cover file would be OK for both types of binding, it caused problems with the trimming. I mean, they almost cut the bar code off! And it took a while to figure out why it was happening. So that delay wasn't my fault.
Has it been fixed? I'm still waiting for UPS to deliver what will hopefully be the final proof of the print copy which will then be available in the next few days.
So, it'll be a soft launch tomorrow. Just the ebook will go live on Amazon. It'll cost £2.12 to UK readers, $2.99 in the US. Members of Amazon Prime can check it out for free.
Suzie x