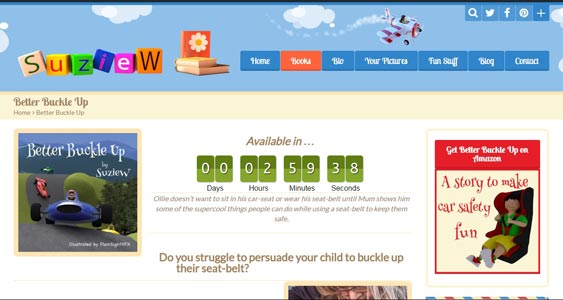 Pre launch Panic.
Well, I'm looking at the countdown timer for the launch of Better Buckle Up and having a pre launch panic.
Two hours!
This was not the post I was expecting to write. I thought I had things organised so early on. But the print version has been beset with problems. I had to lighten the picture files as they were too dark and I changed the binding from saddle stitch to perfect bound, so that delay was my fault. But, having been told by the printer that the cover file would be OK for both types of binding, it caused problems with the trimming. I mean, they almost cut the bar code off! And it took a while to figure out why it was happening. So that delay wasn't my fault.
Has it been fixed? I'm still waiting for UPS to deliver what will hopefully be the final proof of the print copy which will then be available in the next few days.
So, it'll be a soft launch tomorrow. Just the ebook will go live on Amazon. It'll cost £2.12 to UK readers, $2.99 in the US. Members of Amazon Prime can check it out for free.
Suzie x
Progress report on the proof copy of Better Buckle Up.
I had mixed feelings when I received the proof copy of the book.
Things I liked:
The cover is great. The colours are vibrant and popped off the page. I also road-tested the super glossy cover with the sticky fingers of my grandchildren and it wiped clean perfectly.
The paper quality is fine. I'd opted for the Premium colour printing from Lightning Source on the heaviest weight paper but I had heard that POD books didn't have the 'feel' of a children's book. I needn't have worried.
Things I didn't like:
Some of the interior pictures were quite dark. If every picture had been darker, I could have blamed this on the printing process but some were fine. On further inspection of the image files I'd sent, I decided the 'darkness' could have been predicted.
I wasn't happy with the binding. The saddle stitch binding doesn't lie flat properly and makes it look like a pamphlet rather than a book.
Blank pages at the end of the book. I hadn't realized I needed to leave a page blank at the end for the printing info added by Lightning Source. Duh! And having a saddle-stitch binding meant the printer had added 4 pages all at the end which, in a book with so few pages, makes it look as though some of it is missing or I've added pages for notes or something. Totally un-children's book-like. Yuk!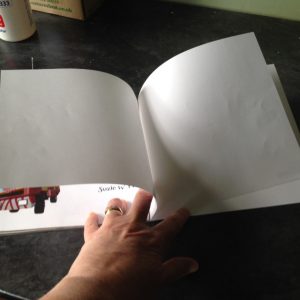 Of course, the mistakes were all mine. I'm re-editing the pictures to brighten them and changing the type of binding from saddle stitch to perfect bound which should hopefully give it that proper book look.
Needing to leave a blank page at the end meant adding more pages so my first layout won't work but the bonus is, I'm adding an extra final page spread. I've seen the first draft of the new picture and I'm really excited about it.
My rep from Lightning Source was super helpful and offered to alter the cover file from saddle stitch to perfect bound for me so I don't have to upload it again but all these changes mean re-submitting and waiting for a new proof. I think they'll be worth it.
And there are still 24 days to launch so I have time … don't I? Ooh, take deep breaths and don't panic!