Book review of Six Brave Explorers
I was searching in the loft the other day when I came across some books my own children had owned. Six Brave Explorers is a pop-up book by Kees Moerbeek. My grandchildren immediately claimed it for their own.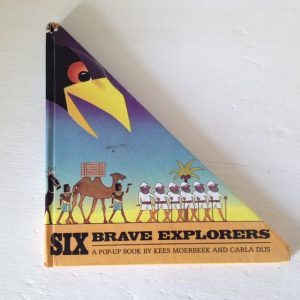 The triangle shape of Six Brave Explorers is intriguing in itself but it doesn't prepare you for the surprises inside. There's the 'rare bird' (which eats one of the explorer's but no-one seemed to mind!)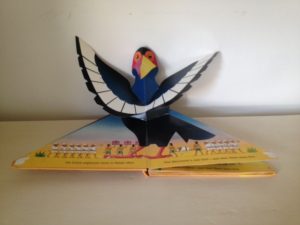 And the hyena (who takes out another explorer)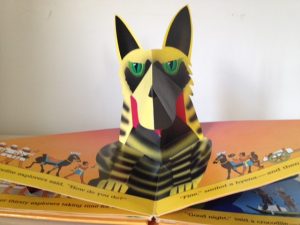 If you're thinking this all seems a little bizarre, you could be right. Here's the story in it's entirety.
Six brave explorers came to Egypt alive. One discovered a rare bird … and now there were five.
Five hungry explorers looking for a store. One asked a Cobra … and then there were four.
Four thirsty explorers taking time for tea. One poured for a panther … then there were three.
Three explorers said, "How do you do?" "Fine," smiled a hyena … and then there were two.
Two sleepy explorers glad the day was done. " Good night," said a crocodile … and then there was one.
One smart explorer finally used his head. He hurried home alone and there he stayed in bed!
OK, it's not the most interesting plot and, yes, you could use it as a counting book. But you don't buy Six Brave Explorers for that reason. It's beauty is in the pop-ups which I have to say have survived my three children and now my grandchildren admirably well.
Shadow Play
We've had this story at bedtime for over a week now and, quite by accident found out it is brilliant for shadow play on the bedroom wall. I tried and failed to take a good picture of this but I'm sure you can imagine the crocodile casts a wonderful shadow when back-lit by a torch.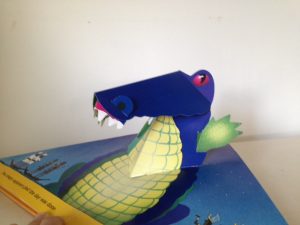 Were all these disappearing explorers scary? Did the teeth on the crocodile silhouette give the grandchildren nightmares? Not at all. It's still the book that the 2 year old and the 4 year old chooses.
Six Brave Explorers is now out of print but copies can still be found on Amazon.
This was an unexpected find and a great hit.
Happy reading
Suzie xx
---
---