Winnie the Pooh day
Did you know that 18th of January is the official Winnie the Pooh Day?
A.A. Milne, the author of this classic story, was born on this day back in 1882. It's hard to imagine that this well-loved little bear was first published on 14 October 1926. The story started around the author's son's collection of stuffed toys. And yes, his son was called Christopher Robin in real life.
Did you catch last year's film Goodbye Christopher Robin? It's a dramatization of how the characters came to be created and well worth a watch.
Idea's to celebrate Winnie the Pooh Day
Read a book. 
Yeah, that one's obvious but Pooh always has some words of wisdom even though he professes to be a 'bear of very little brain.'
Watch a film.
There have been loads of animations of Winnie the Pooh stories. Here's the trailer for the 2010 film.
Cuddle your Teddy
Go on, everyone had at least one cuddly Pooh bear, didn't they?
Eat some honey
A day without a friend is like a pot without a single drop of honey left inside. AA Milne
Click To Tweet
Enter my January Giveaway
I'm giving away a Winnie the Pooh Classic Collection Box set. It features 4x titles:
Winnie the Pooh
The House at Pooh Corner
When we were very Young
Now we are Six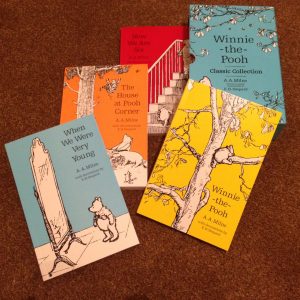 Whatever you do, have a Happy Winnie the Pooh Day.
Love Suzie xx
---
I love Winnie the Pooh. As a child I had cuddlies of Pooh, Piglet and Kanga (complete with a removable Roo in her pouch.) So, the books in my January Winnie the Pooh Giveaway are very special to me.
Winnie the Pooh Giveaway
Titles include:
Winnie the Pooh
The House at Pooh Corner
When we were Very Young
Now we are Six
There are four books in a tidy slip case and they are illustrated throughout in full colour.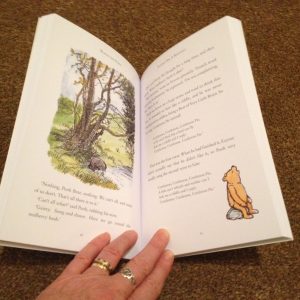 These are lovely books which are a must for any child's bookshelf.
I will be drawing the winner on 2nd February.
Good luck.
Suzie xx
---