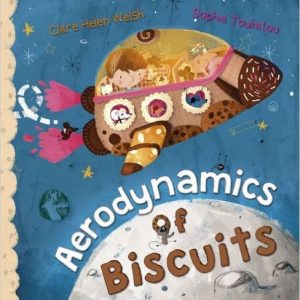 The Aerodynamics of Biscuits by Clare Helen Welsh …
… Day 1 May #AtoZfavbooks challenge.
To kick off the May #AtoZfavbooks challenge, my pick for Day 1 is The Aerodynamics of Biscuits by Clare Helen Welsh.
Apart from having a really brilliant title, this is a hilarious tale involving Captain Sneaky McSqueaky and his crew of pirate mice, a little boy named Oliver and, of course, some biscuits. McSqueaky is trying to steal cheese from the moon. What follows is a very funny story.
There's lots to talk about with your child in the illustrations and the 'pirate talk' was especially interesting to my grandson.
Although it was only published last year, the Aerodynamics of Biscuits has already won the Silver Medal in the Greenhouse Funny Prize and been shortlisted for the SCBWI Crystal Kite Award.
Here's a quick video flick through to give you a taster.
Definitely a book to look out for and share with your little ones.
Suzie x
P.S. Read this book? Let me know in the comments below.
P.P.S. Don't forget to share your favourite book title starting with the letter A in the comments below or post them on facebook or twitter with the hashtag #AtoZfavbooks so I can find them.