"Five little Monkeys Jumping on the Bed" by

Eileen Christelow

…
…#PictureBookMonth – Nov 3
November is Picture Book Month – a celebration of great picture books with a daily theme.
Today's theme is Monkeys.
My choice of book for today is "Five Little Monkeys jumping on the Bed" by Eileen Christelow.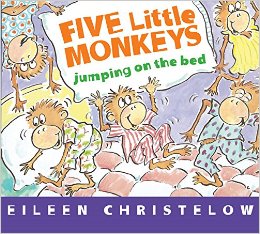 This is a fun take on a story that we all know. It has lovely illustrations and a twist at the end that doesn't usually feature in the words that I remember 🙂 .
Here it is in a great video from Grandma Annii
Five Little Monkeys is one of Amazon's top selling picture books. A classic for little ones. The only problem is, you may have to read it multiple time.
Suzie x
---
---