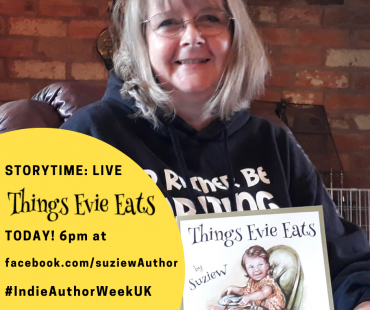 I just did my first ever live post on facebook! Yikes, it was super stressful because I thought I'd never get the streaming thing to to work, but finally it did. Phew! Although there are some things I need to note for next time, like turn-your-phone-onto-silent-before-you-start, and don't-set-the-timer-to-go-off-on-the-cooker-in-the-middle! *sighs*
Anyhow, Storytime was in conjunction with the Indie Author Week 2020 Online Festival.

There are some fantastic events for both authors and readers streaming from the festival including a bedtime story from a different author every night this week, so please do go and check it out.
You can get a copy of Things Evie Eats here. Evie is free for everyone on the 14th and 15th of June, and permanently free for members of Kindle Unlimited.
Thanks for watching.
Suzie xx
Don't forget my new series of early reading books, Read with Rhino, launches on the 16th of June.

---