Peep inside the Zoo

One of the new books we acquired over the summer was Peep inside the Zoo by Simona Dimitri.  My two and a half year old grand-daughter claimed it right away.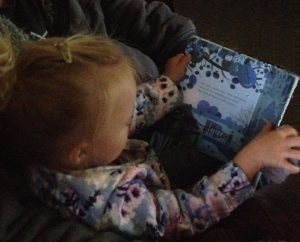 I'm a big fan of Usborne books, and the quality of this book is no exception. It's a chunky book with a lovely silky feel to the cover and the size is just right for grand-daughter. The illustrations are colourful and attractive, and there are lots of different shaped flaps to lift and interesting holes to peep through.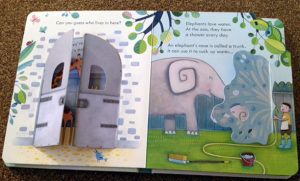 Whilst there isn't a fictional story as such, there are lots of interesting facts about zoo animals and their families.
Penguins shuffle when they walk.

They're birds that cannot fly.

But when they dive into the water…

and flap their wings like flippers…

they're super speedy swimmers!
It would be a great book to read to prepare for an actual zoo visit.
One of grand-daughters favourite pages features a gorilla cradling a (sneakily concealed) baby in its arms. All say Aww 🙂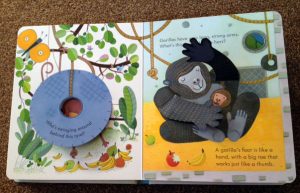 There isn't really enough text to keep my 4 year old grandson interested for more than a few read-throughs but it's a great book for the 2-3 year old age group – especially as it's on offer on Amazon at £3.85 at the moment.
Peep Inside the Zoo is part of a fun series of books and are a must for all lift-the-flap fans.
Happy reading
Suzie xx
PS. Don't forget this months Julia Donaldson giveaway. It ends on Sunday.
---
---