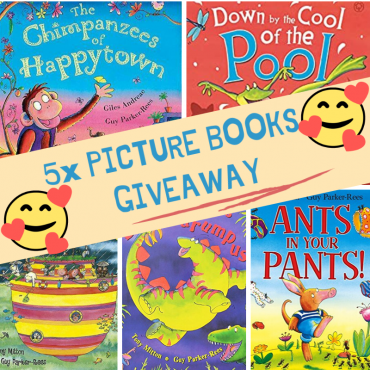 Have you read every book to your child during lockdown so many times you no longer need to look at the text?
We're on lockdown here in the UK, which means we can't make visits to our local library for new books – a disaster in my house. It's not that we haven't got books, but even our favourites are getting old. If you have the same problem, fear not. My '5x Funny Picture Books Giveaway' is here to help.
About the books.
All illustrated by Guy Parker-Rees, these books are bright, colourful and will (hopefully) survive being retold until the end of lockdown.
Titles on offer are:
The Chimpanzees of Happytown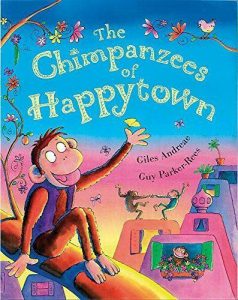 Story by Giles Andreae
Life is no fun for the chimps in Drabsville – the mayor demands that all their houses look the same and that no one should have a good time. But things take a more colourful turn when Chutney the chimpanzee arrives, carrying a tiny seed in a box…
With all the craziness in the world at the moment, I think we all deserve to escape Drabsville and find a piece of 'Happytown.'
Down by the Cool of the Pool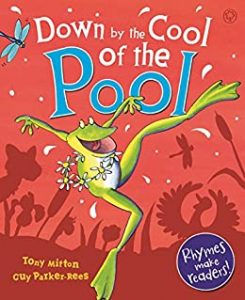 Story by Tony Mirton
Join sprightly Frog and his energetic farmyard friends frolicking down by the cool of the pool – flipping and flopping, splishing and splashing in the watery wonderland.
If you're missing a trip 'down by the cool of the pool', this is the book for you! (Gotta stop with the lockdown puns)
All Afloat on Noah's Boat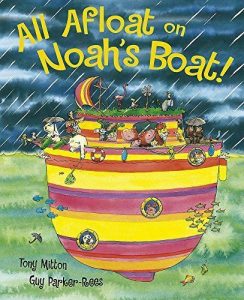 Another story by Tony Mitton
Noah's amazing Rainbow Ark is busy and noisy, and it's not long before the animals begin to get cabin-fever. Clever old Noah hatches a plan for an incredible creature cabaret to get the Ark swinging again.
Did someone say cabin fever! Arrghhh!!!
Ants in your Pants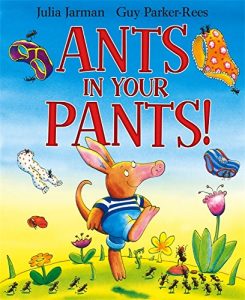 Story by Julia Jarman
Leopard is having a party, but he hasn't invited Aardvark. When naughty ants start biting bottoms at the birthday bash, it isn't long before all the guests are throwing their pants in the air to get rid of them! Only Aardvark can eat the ants and save the day, but will he make it to the party?
I dedicate this book to all the children out there with birthdays who will have to wait to invite their friends and family to their parties.
Bumpus Jumpus Dinosaurumpus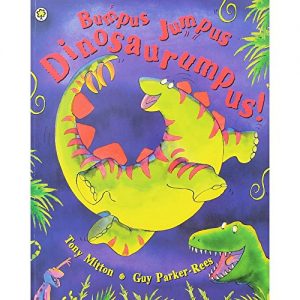 Another great Tony Mitton/Guy Parker Rees collaboration.
Shake, Shake, Shudder…near the sludgy old swamp. The dinosaurs are coming. Get ready to romp.

Join in with Triceratops, Stegosaurus and their friends as the dinosaurs stir up a dinosaurumpus!
Perfect for dinosaur fans – and not a lockdown joke in sight for this one ha ha ha.
Entry is simple, just answer the ridiculously easy question below, and these books could be on the way to you very soon.
Hope you're all surviving lockdown, and Good Luck with the giveaway.
Love Suzie xx
PS Look out for 'Read with Rhino,' my new series of Early Readers launching 5th May.

---
---
Free-to-enter UK competitions at Competition Database – Find more competitions at www.competitiondatabase.co.uk