Announcing my March giveaway, 5x Guy Parker-Rees Picture Books.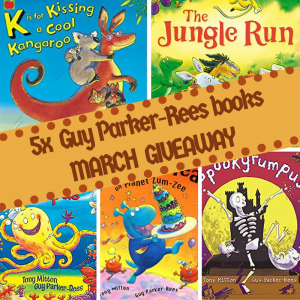 If you've been reading my blog, you will have noticed that I often wish I could draw. OK, I can do stick people and things with straight lines, like houses, aren't too shoddy, but anything more?  Forget it.  One of my favourite book illustrators is Guy Parker-Rees. I love his bright, bold artwork… and kids do too. So, I'm excited to have five of his picture books up for grabs in my March giveaway.
Here are the books you can win.
Come to Tea on Planet Zum-Zee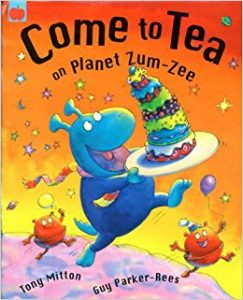 If you take your rocket to the outer edge of space, you'll come across a funny little alien place. The alien peoples call it Planet Zum-Zee, and they're meeting here today for a special picnic tea. Join the space party on Planet Zum-Zee! Meet the crazy creatures and share their deliciously funny food.
The Jungle Run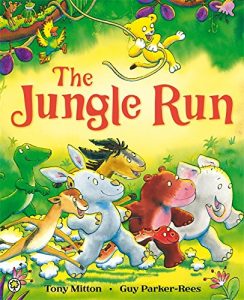 Here come the animals, one by one.
They're all getting ready for the Jungle Run.
Cub turns up to take her place 
but the others say, 'You're to small to race . . . '
Cub may be little compared to the other animals, but she's quick and clever and she knows just how to show the rest of the jungle what a winner she is.
Spookyrumpus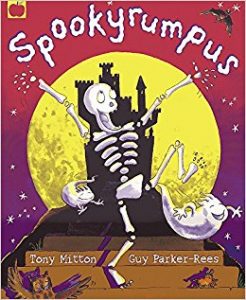 Bong! Goes the bell in the rickety tower, Twelve times…that means it's Spooky Hour. 
Listen! Hush! Oooh, what's that sound? The midnight spooks are coming round. 
The creepy countdown has begun, so get ready to giggle at funny, floaty ghosts, clickety-clackety skeletons and terrific tromping trolls! A real rollicking, romping, rhyming story with hilarious illustrations.
Jolly Olly Octopus
When Jolly Olly Octopus gets the giggles, it isn't long before the waves of bubbly laughter have spread to all his friends and the whole sea bed is awash with sea creatures chuckling away. But, oh no! Here comes Shark! Suddenly things aren't quite so funny any more.
K is for Kissing a cool Kangaroo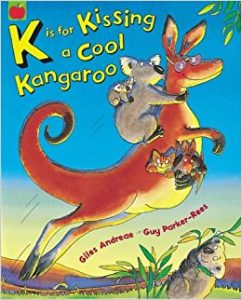 From juicy jellybeans to kissing kangaroos, children will love learning and remembering the letters of the alphabet in this fun-packed ABC book with vibrant illustrations
If you'd like to be the proud owner of these great books, enter the competition below.
Good luck peeps.
Love Suzie xx
---
---
Free-to-enter UK competitions at Competition Database – Find more competitions at http://www.competitiondatabase.co.uk