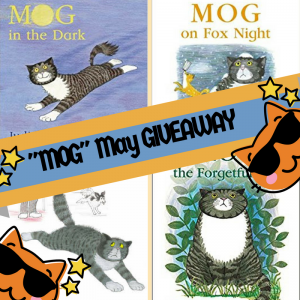 "Mog" May Giveaway
Regular readers of my blog will know that Judith Kerr's 'Mog' series has a special place in my heart (and on my bookshelf). I've read the stories of the lovable, and just a little bit naughty, cat to my children and now to my grandchildren. And they love them just as much as I do. So, here's your chance to win 4 'Mog' books in my May Giveaway.
Titles up for grabs this month include:
Mog the Fogetful Cat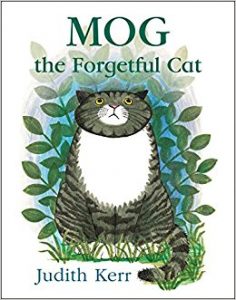 Mog always seems to be in trouble. She forgets that she has a cat flap and she forgets that she has already eaten her supper. But, one night, Mog's forgetfulness comes in very handy…
Mog in the Dark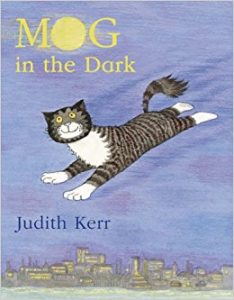 One night Mog's imagination takes her on a hilarious twilight adventure to a land of fantastical creatures, but true to form, all Mog really wants is her supper!
Mog on Fox Night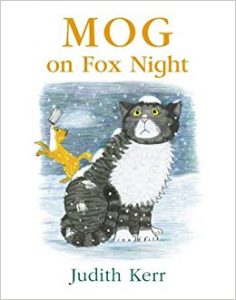 One evening Mog refuses to eat her food and Mr Thomas decides he's had enough and outside she must go. In the snow Mog feels cold and alone until she wakes from a snooze to find some young foxes are playing with the rubbish bags.
Mog and the V.E.T
One day Mog was chasing a butterfly when something happened to her paw. "She'll have to go to the vee ee tee," said Mrs Thomas. But Mog hates going to the vet and before her paw can be made better, she causes great confusion in the vet's surgery…
Every child deserves to read 'Mog' so if you'd like to win these four stories, just enter on the form below.
The winner will be drawn on 1st June.
Good luck.
Suzie xx
---
---
Free-to-enter UK competitions at Competition Database – Find more competitions at http://www.competitiondatabase.co.uk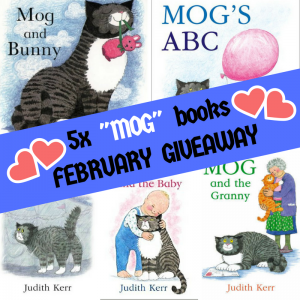 5x Mog Picture Books Giveaway
February is the month of love and Judith Kerr's stories of 'Mog' the naughty but very lovable cat will always hold a special place in my heart. I have many happy memories of reading about 'Mog' with my children and now I am sharing the books with my grandchildren. So, I'm excited to announce that February will be my 5x Mog Picture Books Giveaway.
Up for grabs this month are five books in the 'Mog' series.
Titles included are:
Bunny is Mog's best thing. But one day Mrs Thomas says she is going to throw Bunny in the dustbin… 
Awww.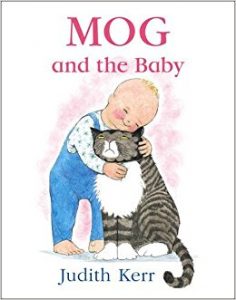 Mog's peaceful day is shattered when a baby comes to visit. All Mog wants to do and sleep and play but there is no chance of that with a little baby around!"Mog loves babies," says Mrs Thomas but suddenly Mog isn't quite so sure… 
This was my children's all time favourite bedtime story. You have to know how Mog saves the baby.
When Mog's garden disappears under an enormous white flappy thing, Mog is very unhappy and does A Bad Thing. But inside the white flappy thing a Cat Show is taking place, the perfect setting for Mog to make her family very proud indeed. 
All kids love it when 'bad things' are done lol!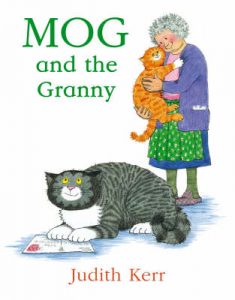 When the Thomas family go on holiday, Mog stays with Granny. It seems safe enough…until she meets Tibbles. 
Oh dear. More trouble for Mog.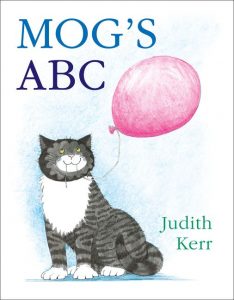 On the day of Debbie's birthday party, Mog sets off on an adventure through the alphabet. Along the way she meets the dragons in the dark and the jaguar with a jug of jelly. M is for Mog, but to her surprise, it is also for the mad mouse monster of her dream.
An ABC book with a difference 🙂
So, there you have it. Five fantastic books that should be on every child's bookshelf.
I'll be drawing the winner the 2nd of March.
Enter below.
Good luck!
Suzie xx
---
---
Free-to-enter UK competitions at Competition Database – Find more competitions at http://www.competitiondatabase.co.uk
Mog and the Baby by Judith Kerr …
… Day 13 May #AtoZfavbooks challenge.
Day 13 and we're halfway through the #AtoZfavbooks challenge already. There are seventeen stories by Judith Kerr about Mog the cat but Mog and the Baby is my all time favourite.
My children and I read Mog and the Baby until it literally fell to pieces. It's the story of Mog whose normal happy life is interrupted by the arrival of Mrs Clutterbuck's who wants to leave her baby with the family for a while.
"Are you sure my baby will be all right with your cat?" asks Mrs Clutterbuck.   
"Oh yes, Mog loves babies," says Mrs Mog. 
The trouble is, Mog really doesn't love babies at all. Despite this fact Mog manages to save the baby and becomes the hero of the day.
A lovely book that builds to a climax as the baby wanders off, 'And there was a car coming!' 
Suzie x
P.S. Read this book? Let me know in the comments below.
P.P.S. Don't forget to share your favourite book title starting with the letter M in the comments below or post them on facebook or twitter with the hashtag #AtoZfavbooks so I can find them.