Famous Five
I grew up on a diet of Enid Blyton. Oh, how I wanted to be one of the Famous Five; solving mysteries and having adventures.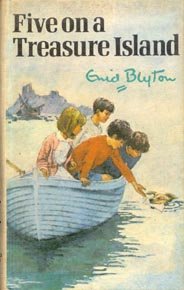 There were twenty-one Famous Five novels in all. Enid Blyton could write a book in a week!!! (Excuse me while I have an "Oh, how I want to write as fast a Enid Blyton" moment.)
The first book, Five on a Treasure Island, was published in 1942. It's a product of a different age. Even though the oldest of the children is just 12 years old, they roam about the countryside unsupervised; they attend boarding school and have parent's rich enough to own islands. But that doesn't take away the fact that our heroes still outwitted criminals, solved crimes and had loads of fun.
What I didn't know was that Enid Blyton also wrote a series of Famous Five short stories for publication in magazines. These have now been released as books in their own right by Hodder. As I'm working on a middle grade book at the moment, I got hold of a few of the books to see what they were like.
Famous Five colour Short Stories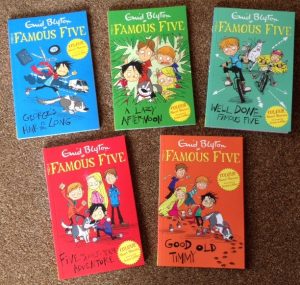 At 80 pages long, they're not too long for beginner readers and I was happy to find that they have lost their cutesy 1950's image and look current and fresh for modern kids. Inside, the illustrations are full colour too, giving them an almost comic book feel.
I did worry whether the 1950's language might jarr alongside the contemporary artwork but I think it stood up admirably.
Readers of my blog will know I'm a BIG fan of text that complements the illustrations and tried to incorporate that into my own picture book design.  Jamie Littler, the artist on the Famous Five books, does this really well.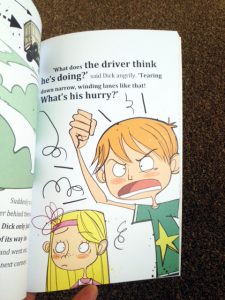 What are the books about?
 Five and a Half-term Adventure
George's dog Timmy sniffs out an adventure when he spots some suspicious-looking passengers on a train. He is very interested in one of them, but what has he spotted? Can the Famous Five solve this mystery?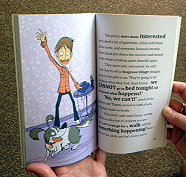 Well done, Famous Five
The most famous racehorse in England is being trained in Kirren, and the Famous Five are eager to watch. But when the horse bolts the Famous Five need to think quickly to make sure he isn't lost or injured. The whole of England is depending on them.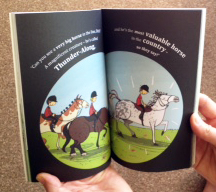 Good Old Timmy
After the Five see a boy being kidnapped at the beach, they set out to find him. But where have the kidnappers hidden the boy? Will Timmy lead them to the answer?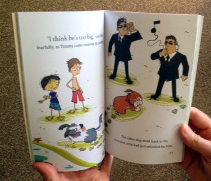 George's Hair is Too Long
Borrowing some scissors is the beginning of an adventure for the Famous Five, as George manages to get mixed up with some burglars. Julian, Dick and Anne are too busy eating ice cream to realise that George is in trouble! Will the Famous Five manage to catch up with the burglars and save the day?

A Lazy Afternoon
It's so terribly hot, the Famous Five are having a lazy afternoon…but the gang don't get the peace and quiet they imagined! What are the men on the motorbikes up to? Can they be stopped?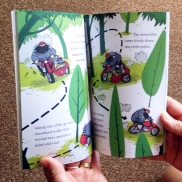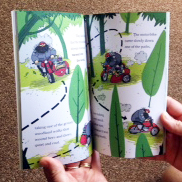 My verdict.
I really liked this new series. I'm sure they'll be a hit for children transitioning from early readers to 'real books' and reluctant readers will love the colourful pages. They are a great introduction to Enid Blyton's classic series.
I'll be giving away copies of the 5 books in my June Giveaway, just answer the easy question below.
Thanks for reading
Suzie xx 
PS There's still time to enter my 5 Classic Picture Books May Giveaway
---
---