Famous Five
I grew up on a diet of Enid Blyton. Oh, how I wanted to be one of the Famous Five; solving mysteries and having adventures.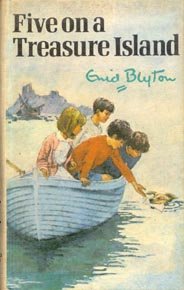 There were twenty-one Famous Five novels in all. Enid Blyton could write a book in a week!!! (Excuse me while I have an "Oh, how I want to write as fast a Enid Blyton" moment.)
The first book, Five on a Treasure Island, was published in 1942. It's a product of a different age. Even though the oldest of the children is just 12 years old, they roam about the countryside unsupervised; they attend boarding school and have parent's rich enough to own islands. But that doesn't take away the fact that our heroes still outwitted criminals, solved crimes and had loads of fun.
What I didn't know was that Enid Blyton also wrote a series of Famous Five short stories for publication in magazines. These have now been released as books in their own right by Hodder. As I'm working on a middle grade book at the moment, I got hold of a few of the books to see what they were like.
Famous Five colour Short Stories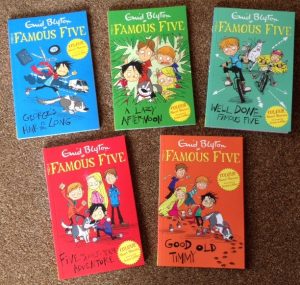 At 80 pages long, they're not too long for beginner readers and I was happy to find that they have lost their cutesy 1950's image and look current and fresh for modern kids. Inside, the illustrations are full colour too, giving them an almost comic book feel.
I did worry whether the 1950's language might jarr alongside the contemporary artwork but I think it stood up admirably.
Readers of my blog will know I'm a BIG fan of text that complements the illustrations and tried to incorporate that into my own picture book design.  Jamie Littler, the artist on the Famous Five books, does this really well.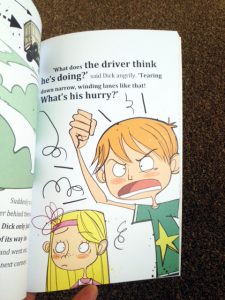 What are the books about?
 Five and a Half-term Adventure
George's dog Timmy sniffs out an adventure when he spots some suspicious-looking passengers on a train. He is very interested in one of them, but what has he spotted? Can the Famous Five solve this mystery?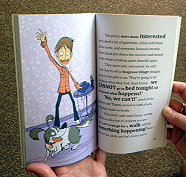 Well done, Famous Five
The most famous racehorse in England is being trained in Kirren, and the Famous Five are eager to watch. But when the horse bolts the Famous Five need to think quickly to make sure he isn't lost or injured. The whole of England is depending on them.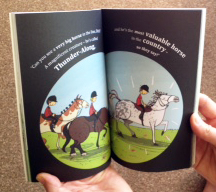 Good Old Timmy
After the Five see a boy being kidnapped at the beach, they set out to find him. But where have the kidnappers hidden the boy? Will Timmy lead them to the answer?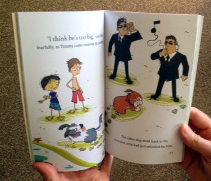 George's Hair is Too Long
Borrowing some scissors is the beginning of an adventure for the Famous Five, as George manages to get mixed up with some burglars. Julian, Dick and Anne are too busy eating ice cream to realise that George is in trouble! Will the Famous Five manage to catch up with the burglars and save the day?

A Lazy Afternoon
It's so terribly hot, the Famous Five are having a lazy afternoon…but the gang don't get the peace and quiet they imagined! What are the men on the motorbikes up to? Can they be stopped?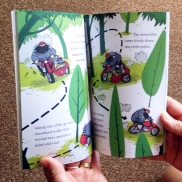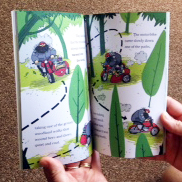 My verdict.
I really liked this new series. I'm sure they'll be a hit for children transitioning from early readers to 'real books' and reluctant readers will love the colourful pages. They are a great introduction to Enid Blyton's classic series.
I'll be giving away copies of the 5 books in my June Giveaway, just answer the easy question below.
Thanks for reading
Suzie xx 
PS There's still time to enter my 5 Classic Picture Books May Giveaway
---
---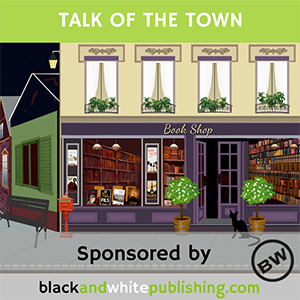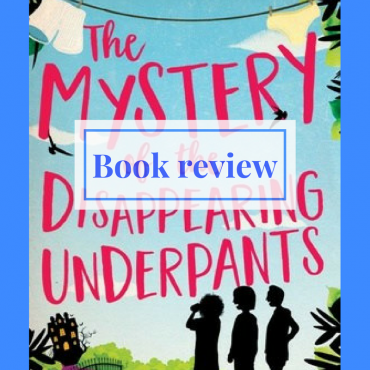 Book review: The Mystery of the Disappearing Underpants
I'm happy to be reviewing The Mystery of the Disappearing Underpants for this month's British Books Challenge.  The book is published today (28th of April) and is the debut novel of Nikki Young.
The Blurb
The Mystery of the Disappearing Underpants is a spy story with a difference.

When Harry and James form a secret agency for the summer, their first task is to investigate the disappearance of Harry's lucky underpants and to prevent nosey neighbour, Stacey, from interfering in their business.

But when a mysterious couple move into an old house on their street, the children are intrigued. Harry and James must join forces with Stacey in order to uncover what is going on at number 35. And with Harry's attention diverted from the hunt for his lucky underpants, will he ever be able to find them?
The cover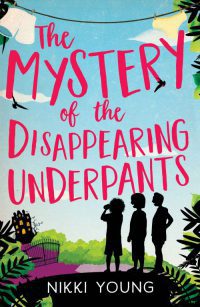 A perfect eye-catching genre cover. So far, so good.
The Story.
The Mystery of the Disappearing Underpants: this story should be a hit with middle grade readers on its title alone.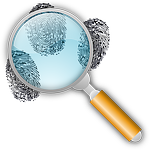 We start off with our would-be spies investigating thefts from washing lines. The initial culprit is unexpected, but harmless, and I was concerned that the story might be a bit bland even for the intended 9-11 age group. Happily, I needn't have worried, as events quickly escalate into something much more sinister and thrilling.
Harry, James and Stacey take turns narrating the events of their summe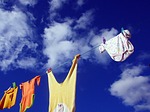 r spy club and I liked that this gives readers an insight into the minds of three children. I loved their imagination and innocent logic as they try to solve mysteries (both real and make-believe) and I liked the way they suspected someone and then discovered they were wrong. For example, after seeing a ladies underskirt on the washing line of a man who lived by himself, they find out he does the washing for his mother. Oops!
There were a few surprises and I never saw the identity of the washing line thief coming. 🙂
A niggle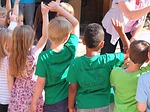 Harry, James and Stacey turn out to be quite a team, but it's not always that way. At the beginning of the book, I didn't like the way the boys treated Stacy. There was a lot of, "I hate girls," "We warned Stacey not to come anywhere near us or we'd show everyone in school the video that shows her playing with dolls like a little girl," and "Let's face it, she's annoying anyway AND she's a girl."
Now, Stacey turns out to be a strong character and she does get her own back but I would have liked a little more gender co-operation from the start.
To sum up.

This is a fun book with a great cover, an engaging plot and a believable cast of characters which I'm sure young readers will identify with – a winning combination.
Nikki Young is an author, a blogger and a copywriter who hails from the South-East of England: perfect for me to link up with the British Books Challenge.
So, do Harry, James and Stacey find the lucky underpants? You'll have to read the story to find out.
Suzie xx
---
---
---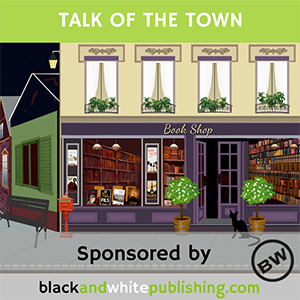 Book review: "The Rabbit ate my Homework" and "The Rabbit ate my Flip Flops".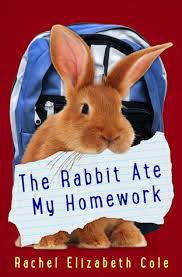 I spent the sunny afternoon reading "The Rabbit ate my Homework" and it's sequel, "The Rabbit ate my Flip Flops," by Rachel Elizabeth Cole.
Eleven year old Drew Montgomery is having a bad day. He breaks his new bike, after being told not to ride/do jumps on it by his father, and his little sister, Libby, knows what he's done. So, when they find a rabbit abandoned in a box and Libby wants to take it home, she threatens to tell his parents about the bike unless he agrees. Blackmailed and miserable,  with problems at school and rather absent, work-a-holic parents Drew's life quickly lurches from one disaster to another in a hilarious chain of events all centred around the rabbit.
The characters in the book were really well-drawn with Drew and his sister having distinct personalities and voices. Their reactions to the problems of keeping a rabbit hidden in Drew's room were hilarious and spot-on for their different ages. The book has short chapters and rattles along at a cracking pace, just right for the target, middle-grade, age group but will also be enjoyable to adults reading it with their children. I really had to find out how all Drew's problems would be resolved. Needless to say, things did turn out right in the end.  
It says a lot about a book when you want to read it's sequel. So, I set into book 2 of the series, "The Rabbit ate my Flip Flops."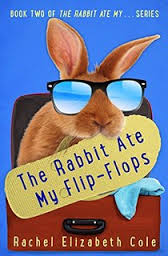 The Montgomery household has now got used to the routine of having a pet house-rabbit but things start to go awry when their parents go out of town and Drew and Libby are taken on holiday with their grandparents. The plan is for Drew's friend to look after the rabbit, but Libby is worried he'll feel abandoned and sneaks him along.
This story sees Drew coping with kids with a mean dog, their grandparents over-bearing friend and a defective campervan as well as Libby finding more rabbits to rescue. It's cleverly plotted so each disaster followed nicely from the one before and events don't feel forced.
I particularly liked the way the relationships between Drew and his friends, both male and female, were drawn and also the realistic way the rabbit pooped and chewed it's way through everything it shouldn't, making a refreshing change from the usual fluffy way rabbits are presented in children's fiction. Anyone considering getting a rabbit for a pet should definitely read these books.
There are more books due in The Rabbit Ate series and they are well worth looking out for,
Happy Reading.
Suzie x 
PS There's a giveaway over on Goodreads for an autographed copy of Better Buckle Up.  Check it out.
Ends June 21, 2016.
See the details
at Goodreads.