Book review: "The Rabbit ate my Homework" and "The Rabbit ate my Flip Flops".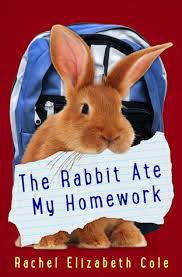 I spent the sunny afternoon reading "The Rabbit ate my Homework" and it's sequel, "The Rabbit ate my Flip Flops," by Rachel Elizabeth Cole.
Eleven year old Drew Montgomery is having a bad day. He breaks his new bike, after being told not to ride/do jumps on it by his father, and his little sister, Libby, knows what he's done. So, when they find a rabbit abandoned in a box and Libby wants to take it home, she threatens to tell his parents about the bike unless he agrees. Blackmailed and miserable,  with problems at school and rather absent, work-a-holic parents Drew's life quickly lurches from one disaster to another in a hilarious chain of events all centred around the rabbit.
The characters in the book were really well-drawn with Drew and his sister having distinct personalities and voices. Their reactions to the problems of keeping a rabbit hidden in Drew's room were hilarious and spot-on for their different ages. The book has short chapters and rattles along at a cracking pace, just right for the target, middle-grade, age group but will also be enjoyable to adults reading it with their children. I really had to find out how all Drew's problems would be resolved. Needless to say, things did turn out right in the end.  
It says a lot about a book when you want to read it's sequel. So, I set into book 2 of the series, "The Rabbit ate my Flip Flops."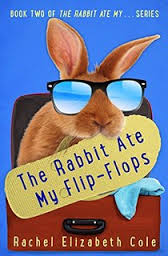 The Montgomery household has now got used to the routine of having a pet house-rabbit but things start to go awry when their parents go out of town and Drew and Libby are taken on holiday with their grandparents. The plan is for Drew's friend to look after the rabbit, but Libby is worried he'll feel abandoned and sneaks him along.
This story sees Drew coping with kids with a mean dog, their grandparents over-bearing friend and a defective campervan as well as Libby finding more rabbits to rescue. It's cleverly plotted so each disaster followed nicely from the one before and events don't feel forced.
I particularly liked the way the relationships between Drew and his friends, both male and female, were drawn and also the realistic way the rabbit pooped and chewed it's way through everything it shouldn't, making a refreshing change from the usual fluffy way rabbits are presented in children's fiction. Anyone considering getting a rabbit for a pet should definitely read these books.
There are more books due in The Rabbit Ate series and they are well worth looking out for,
Happy Reading.
Suzie x 
PS There's a giveaway over on Goodreads for an autographed copy of Better Buckle Up.  Check it out.
Ends June 21, 2016.
See the details
at Goodreads.