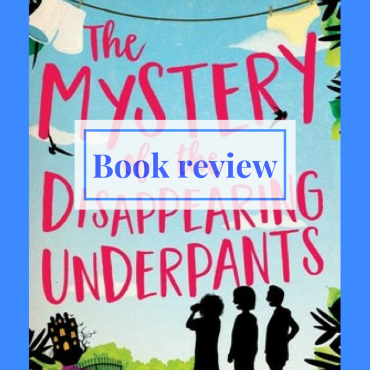 Book review: The Mystery of the Disappearing Underpants
I'm happy to be reviewing The Mystery of the Disappearing Underpants for this month's British Books Challenge.  The book is published today (28th of April) and is the debut novel of Nikki Young.
The Blurb
The Mystery of the Disappearing Underpants is a spy story with a difference.

When Harry and James form a secret agency for the summer, their first task is to investigate the disappearance of Harry's lucky underpants and to prevent nosey neighbour, Stacey, from interfering in their business.

But when a mysterious couple move into an old house on their street, the children are intrigued. Harry and James must join forces with Stacey in order to uncover what is going on at number 35. And with Harry's attention diverted from the hunt for his lucky underpants, will he ever be able to find them?
The cover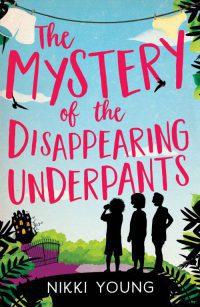 A perfect eye-catching genre cover. So far, so good.
The Story.
The Mystery of the Disappearing Underpants: this story should be a hit with middle grade readers on its title alone.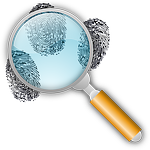 We start off with our would-be spies investigating thefts from washing lines. The initial culprit is unexpected, but harmless, and I was concerned that the story might be a bit bland even for the intended 9-11 age group. Happily, I needn't have worried, as events quickly escalate into something much more sinister and thrilling.
Harry, James and Stacey take turns narrating the events of their summe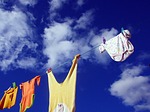 r spy club and I liked that this gives readers an insight into the minds of three children. I loved their imagination and innocent logic as they try to solve mysteries (both real and make-believe) and I liked the way they suspected someone and then discovered they were wrong. For example, after seeing a ladies underskirt on the washing line of a man who lived by himself, they find out he does the washing for his mother. Oops!
There were a few surprises and I never saw the identity of the washing line thief coming. 🙂
A niggle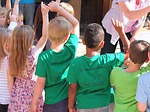 Harry, James and Stacey turn out to be quite a team, but it's not always that way. At the beginning of the book, I didn't like the way the boys treated Stacy. There was a lot of, "I hate girls," "We warned Stacey not to come anywhere near us or we'd show everyone in school the video that shows her playing with dolls like a little girl," and "Let's face it, she's annoying anyway AND she's a girl."
Now, Stacey turns out to be a strong character and she does get her own back but I would have liked a little more gender co-operation from the start.
To sum up.

This is a fun book with a great cover, an engaging plot and a believable cast of characters which I'm sure young readers will identify with – a winning combination.
Nikki Young is an author, a blogger and a copywriter who hails from the South-East of England: perfect for me to link up with the British Books Challenge.
So, do Harry, James and Stacey find the lucky underpants? You'll have to read the story to find out.
Suzie xx
---
---
---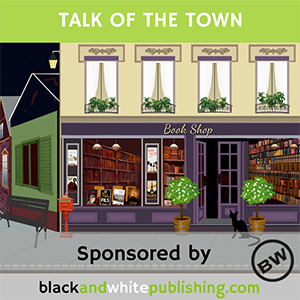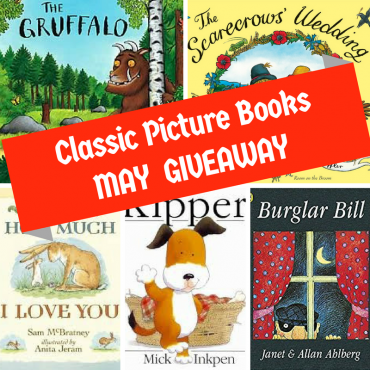 Wanna Win 5 Classic Picture Books?
During the month of May, readers of my blog will be able to Win 5 Classic Picture Books by answering one simple question below.
Titles I'm giving away include:
The Gruffalo by Julia Donaldson
Kipper by Mick

Inkpen

Burglar Bill by Janet and Allan Ah

lberg

Guess How Much I love You by Sam McBratney
The Scarecrow's Wedding by Julia Donaldson
They are all firm favourites in my house and are perfect for reading with your little one.
The winner will be drawn on 1st June.
Good luck
Suzie xx
PS The more you share, the more chances of winning you'll have. 🙂
---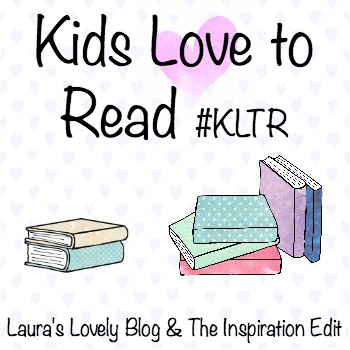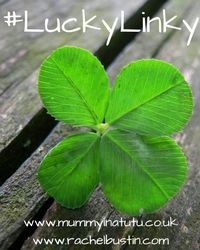 Potions in the Pizza: Book Review.
I received a copy of Potions in the Pizza, the first book in The W.H.O Files, a middle grade fantasy by Mikey Brooks. It's a fun read about a family of witch-hunters… think, a kids version of Supernatural.
The Cover

Brooks is an illustrator as well as an author and this cover screams, "read me I'm an exciting book." Once again, I wish I could draw *sighs*
The blurb:
10­-year-­old twins Ethan and Emmy's parents have never told their kids what they do for a living. Then just before Halloween, while their parents are away on an emergency business trip, Ethan, Emmy, and their best friend Jax discover a HUGE secret: could the twins' parents actually be . . . witch hunters?

Meanwhile at school, a new team of glamorous lunch ladies arrives on the scene, serving meals that taste way too good to come from a school cafeteria. There's only one logical explanation: they're witches, and the meals they serve are spiked with a dangerous potion! Why have witches come to Roosevelt Elementary? Where have Ethan and Emmy's parents gone? Can it be a mere coincidence that their parents left just as the witches arrived? Whether they're ready or not, Ethan and Emmy have only one option if they want to save their school and find their parents: become witch hunters themselves.
I love the idea of dinner ladies being witches (I think they may have been witches when I was at school too!)
My Review.
First off,  Potions in the Pizza is very American and, whilst I have watched enough American TV to understand ballpark, wieners and blacktop (actually, I had to Google that one to be sure), British ten-year olds might not. Of course, if you're from the US this is not a problem.
Obviously I am far from the target audience for this book and I found the first part was a little slow and tied up with 'school issues.'
Also, I didn't warm to Ethan and Emmy straight away. Ethan is a bit whiny and ineffective and Emmy is rather self-opinionated and selfish. But it did give them plenty of room for improvement and they both had great character arcs. Once the book gets down to the nitty-gritty of dinner ladies being witches and Ethan discovers the truth about his parents real job, the story cracks along at an enjoyable pace and by the end I was totally rooting for the twins as they battle to save the day.
And that brings me to a niggly issue I had with the plot. Why on Earth did Ethan and Emmy's parents not come up with a cover story about their job? Even real-life secret agents usually have some pretend-legitimate occupation that they use to explain their long trips out of town to their family and friends. Saying you work in the  'family business' is surely the quickest way to induce wild speculation with your children or their class mates. What were they thinking?
Also, I felt the dialogue was trying too hard at times, but again I'm somewhat older than the target age-range, so maybe the language would be 'cool' if I was younger. There are also some fight scenes but they are not gory and are suitable for the target audience.
My verdict
Overall, I enjoyed the book. It is a 'witch-hunting' story with a lot of twists and turns and I did not expect the ending. (No, I'm not telling). I will be looking out for Book 2 to see how the story unfolds.
About Mikey Brooks
Mikey Brooks is a small child masquerading as adult. On occasion you'll find him dancing the funky chicken, singing like a banshee, and pretending to have never grown up. He is the author/illustrator of several books including BEAN'S DRAGONS, the ABC ADVENTURES series, and author of the middle-grade fantasy-adventure novel, THE DREAM KEEPER. He spends most of his time playing with his daughters and working as a freelance illustrator. Mikey has a BS degree in Creative Writing from Utah State University. He is also one of the hosts of the Authors' Think Tank Podcast.
Love the bio. Would like to see Mr Brooks dancing the funky chicken lol.
I received a copy of The W.H.O. Files: Potions in the Pizza from Future House Publishing in exchange for an unbiased review.
Suzie xx
---
---