Me  v  Picture Book Text Design.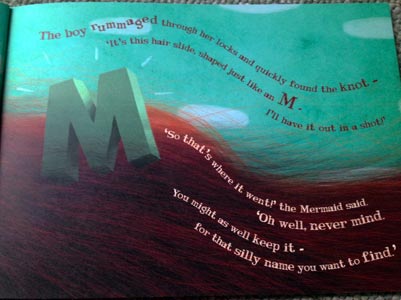 Every so often you come across a book where the picture book text is so well incorporated into the page it almost becomes part of the illustration and not just a means of delivering the story.
Have a look at these pages from my grandson's copy of 'The Little Boy who Lost his Name'.
I love how the text in the first picture follows the movement of the water and the mermaids hair in swirling lines. The irregularity of the size of the letters and the variation in the boldness of the font makes them interesting to look at.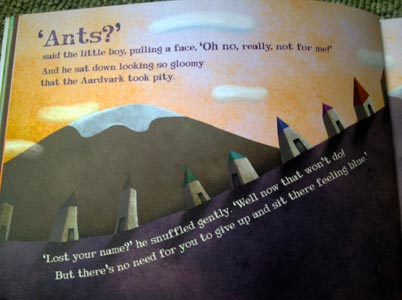 In the second picture, the text complements the houses as it marches up the hill, whilst the huge word 'Ants?' emphasizes the little boys horror when the kindly Aardvark offers him some to eat. Brilliant.
My next book, Things Evie Eats, is a completely different design to Better Buckle Up. The illustrations are painted by an artist rather than being computer generated and I've tried to capture the lovely texture of the art paper she used for the pages of the book. This gives it an old-fashioned feel.
After spending so long perfecting the words of the manuscript, I wanted the layout of the text to be visually interesting so that actual letters add to the look of the book.
I chose a font which has simple letters similar to those used in early reading books. This should support letter recognition and help any early readers I might have. I felt this was important even though the book is most likely to be read aloud by parents, rather than by the children themselves,
Here's a sneak peak at some of my pages.
Cheese Block Tower.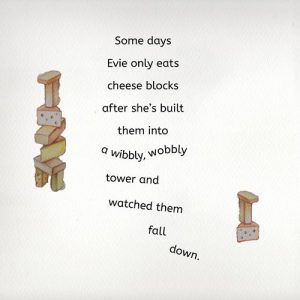 On this page I wanted the text to mimic the wibbly, wobbly tower that Evie builds with her cheese blocks.
Pouring milk down Mummy's leg.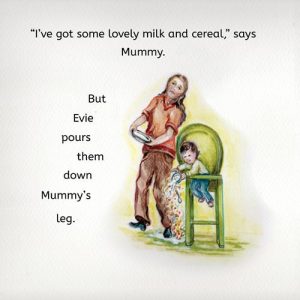 Here the text follows the milk and cereal as naughty Evie pours them down Mummy's leg.
Squishy, squashy peas.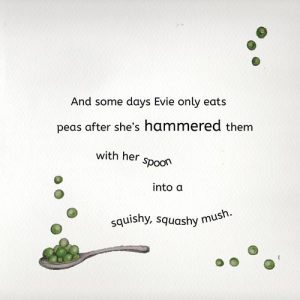 This makes use of a different size font and I tried to make the word 'spoon' into a spoon shape. This taxed my InDesign skills to the limit.
Spider's web text.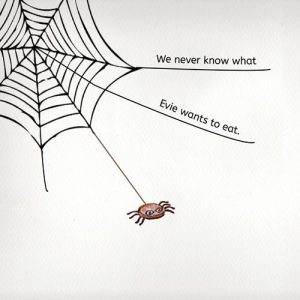 This is the text that goes with last illustration. It took a while to suss out how achieve the spider's web and make the text hover above it. Thankfully, my artist drew the 'biscuit' spider 🙂
I am not an expert in layout design. In most cases my ideas are greater than my skill set but am still pleased with how the book is shaping up … just a few more tweaks before it goes to the printers.
So, do you like wibbly, wobbly, squishy, squashy picture book text?
I'd love to hear your thoughts in the comments below.
Suzie x
Pre-order Things Evie Eats for 20th July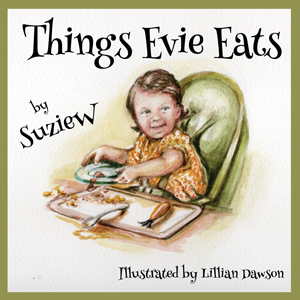 Man's best friend … or not.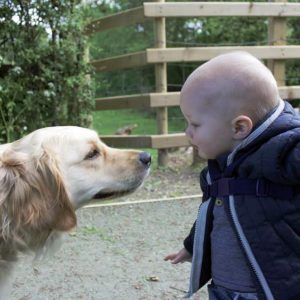 There are lots of books for children featuring dogs. More often that not they're presented as a child's best friend. But what if your child doesn't think they are his best friend? What if he's scared of dogs?
Let's face it, to a small child a dog is a pretty scary animal with big teeth. Even a friendly dog can be bouncy and knock the child over, can't be stopped from giving unwanted face-licks and has the breath of a hound straight from hell.
Whilst walking in the park my two-year old grandson happened to pick up a stick and started carrying it. Unfortunately, a nearby dog thought it was playtime. It ran over and wrenched it off him. Since this incident he screams if a dog comes anywhere near. And I'm talking ear-splitting, I'm-in-danger-of-being-eaten-alive screams. A reaction way out of proportion to the behaviour of the dog. We needed a plan.
Books for children who are scared of dogs.
My first job was to find some books that might help. We already books like Spot and Hairy Maclary and he was quite happy with these 'book dogs'. I needed more. In the end, I ordered two books.
First impressions: the printers had trimmed it slightly crooked and the paper wasn't the greatest quality. I'm not sure how many reads through with children it will stand. However, the illustrations are bright and colourful and the text is in rhyme … which I always like.
It explains how to tell if a dog was frightened, angry or wanting to play but … there was a picture of a dog baring it's teeth with the text that ended, "Give me my bone back to chew… Or you better watch out – I will bite you," … which wasn't the message I wanted to send.
I haven't read it to my grandson yet.
In contrast to the first book, I was surprised and impressed it was a hardback. The illustrations are sweet and the text is gentle and fun to read.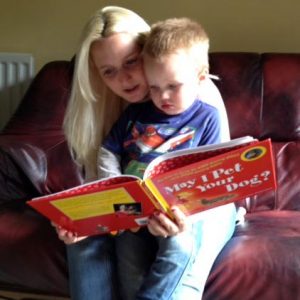 This book isn't aimed specifically at children scared of dogs but has lots of dog-meeting etiquette and general good advice on how to approach a dog, which would also be good if your child was too eager to cuddle animals they were unfamiliar with.
My grandson was very interested in the book and, even after several reads with me, he took it to his Mum to read yet again.
We practiced asking, 'May I Pet your Dog' and also holding our hand with the fingers pointing down so a dog could come and sniff. We also practiced standing very still and not looking at a dog if we were afraid. We had great fun with me pretending to be a dog although I thought it was telling that, when he played the part of the dog, he crawled around growling and wouldn't be a 'friendly' dog.
This book was a winner.
This is about a boy who says he is very brave. He proclaims he isn't afraid of anything, not spiders, not snakes and not thunderstorms. He's not afraid of dogs either, he just doesn't like them. 
It is aimed at slightly older children than my grandson but sounds a good read and I may order this if he needs more encouragement.
What's next?
I think we need plenty of practice meeting pretend dogs before we attempt it on the real thing and I'm looking for someone with a really, really laid-back pet for the first meeting.
Do you know of any books I missed? Or any suggestions on helping children overcome their fear of dogs? Let me know in the comments.
Will let you know how we get on.
Suzie x
 Did you know there are free books to win everyday on Goodreads?

If you didn't know, Goodreads is a great site that lets you connect with other readers, see what books they're into, and read reviews. There are books from both the Big Six traditional publishers and books from Indie authors … and they're all paperback or hardback copies for you to keep. What's not to like?
My giveaway for Better Buckle Up finished today but there are lots of great books to inspire readers both young and old still to be won: 3341 titles in the children's section alone. Here are 10 books to give you a taste of what's on offer.
1. The Big Biscuit Bake Off: Flying Fergus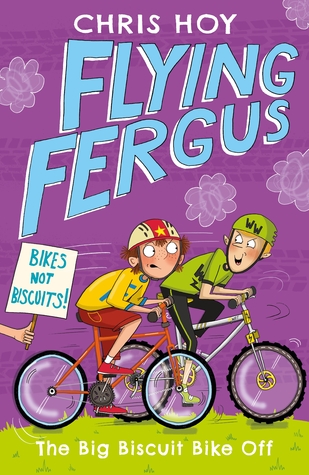 The Blurb: Fergus and his friends are still glowing with pride at being runners' up in the Great Cycle Challenge and practicing hard for the next round of the cycling competition – the District Championships. But without fancy bikes and with only the local common to train on, can the team really go all the way?
Then disaster strikes the team when local biscuit company, Bruce's Biscuits announce plans to build their new factory on the common. They have offered the council a lot of money for the land and there's no hope for Fergus and the team to raise enough to match it. Fergus hopes that if he can find Dad in Nevermore he might have a bright idea to help them. But when Fergus spins the pedals backwards on his bike three times, he gets more than he bargained for!
The third in Sir Chris Hoy's adventure series (which, as he's a cycling champion, have to be about bikes). There are 3 copies available to UK readers and the draw takes place on 30th June.  Enter here.
2. The Crooked Sixpence (The Uncommoners book 1)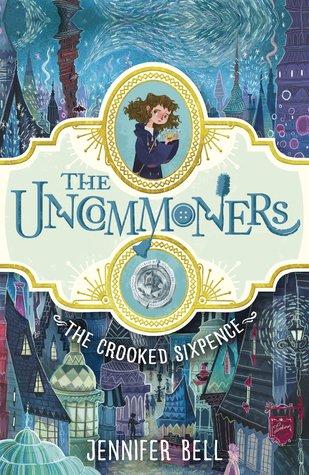 The Blurb: When Ivy Sparrow's grandmother Sylvie is rushed to hospital, Ivy and her annoying big brother Seb cannot imagine what lies in store for them. Returning to Sylvie's house, they find it has been ransacked by unknown intruders – then a mysterious feather scratches an ominous message onto the kitchen wall, and a very strange policeman is determined to apprehend them . . . with a toilet brush. Ivy and Seb make their escape – only to find themselves in a completely uncommon world.
The forces of evil are closing in fast, and if Ivy and Seb are ever to see their parents again, they must get to the bottom of a family secret as shameful as it is incredible . . . before it's too late.
This book by Jennifer Bell was the Waterstones Book of the Month. There are 10 copies available to readers in the UK and the draw is due on the 24th June.  Enter here. (I love that cover, don't you?)
3. The Magic Forest Alphabet: Introducing Consonant Blends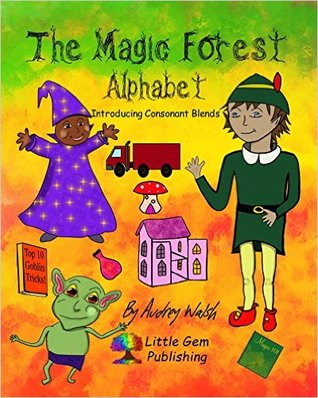 The Blurb: Evan the elf has lost his favorite red truck. Join him as he looks for his toy in a book featuring high frequency consonant blends and short vowels. Enhance your child's reading with this amazingly fun adventure!
This book follows on from  The Magic Forest Alphabet: Introducing Letter Sounds
 by Audrey Walsh (which is also on offer on Goodreads 🙂 ). There are 5 copies available but randomly only people from the UK, France and Australia can enter. The competition closes on 29th June.
4. Heck! Here's the Heron!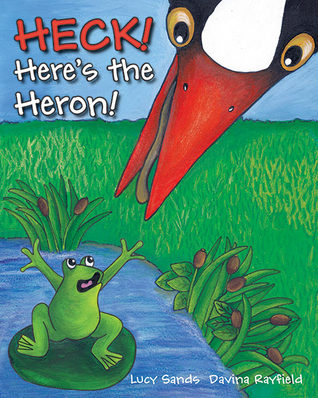 The Blurb: HECK! A Heron has come to disturb the peace in Grandma's Garden. The animals hatch various plans to survive his visits – but will they work?
A book for younger readers by Lucy Sands, this giveaway ends on the 30th June and is available to readers in the US, Canada, GB, and Australia. Find it here.
5. Umi's Quills.
The Blurb: Umi's Quills is a story featuring Umi, a little fox who just wants to fly. But foxes do not fly. How can Umi be happy? This story features poetic text and whimsical illustrations by Terra Mar, and can be enjoyed by both children and adults.
This giveaway is for an autographed copy of the book (I love those) and finishes on 26th June. It's open to members from the US, Canada, and GB. Enter here.
6. The Lost Property Office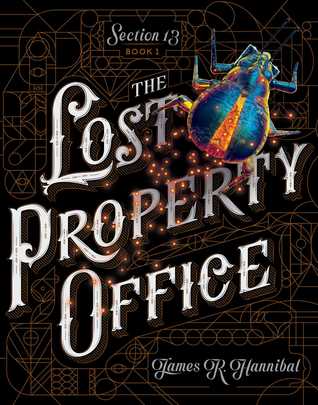 The Blurb: Thirteen-year-old Jack Buckles is great at finding things. Not just a missing glove or the other sock, but things normal people have long given up on ever seeing again. If only he could find his father, who has disappeared in London without a trace.
But Jack's father was not who he claimed to be. It turns out that he was a member of a secret society of detectives that has served the crown for centuries—and membership into the Lost Property Office is Jack's inheritance.
Now the only way Jack will ever see his father again is if he finds what the nefarious Clockmaker is after: the Ember, which holds a secret that has been kept since the Great Fire of London. Will Jack be able to find the Ember and save his father, or will his talent for finding things fall short?
This adventure from James R Hannibal is especially exciting as it's an ARC and autographed too. And doesn't it have a fantastic cover? It's open to readers in the US, Canada and GB and finishes on the 30th June. Try your luck here.
7. Numbers Coloring Book: A Counting and Coloring Book (The Adventures of Midge and Moo)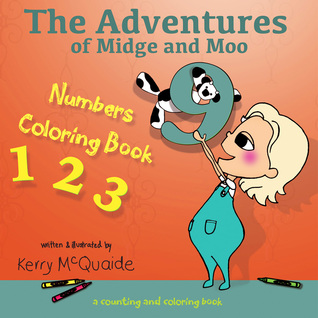 The Blurb: Learning numbers is more fun when you color with Midge and Moo. Moo stands on his head, kicks up his legs, and celebrates each number he counts. If you and your little one like sea horses, jelly beans, and cupcakes, then you will love the Midge and Moo Numbers Coloring Book!
Written and illustrated by Kerry McQuade, entries are open to readers from the US, Canad, GB, and Australia by clicking here. Do it before 1st July.
8. The Adventures of Gracie and Monkeybear.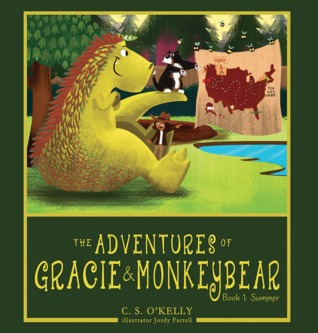 The Blurb: A rare friendship between a precocious girl and her dog turns into an incredible adventure every Saturday morning. From their backyard in Brooklyn, they find portals that open to new worlds. With each new doorway comes the opportunity to help those in need and create lasting friendships along the way. From digging out a trapped dinosaur, meeting an alien after he crash-lands in their fig tree, to rescuing a young whale, Gracie and MonkeyBear are tested at every turn… But can they make it home in time for dinner?
A giveaway from C.S O'Kelly for folks in the US, Canada and GB which ends on 1st July. Enter here.
9. Sleep baby, sleep.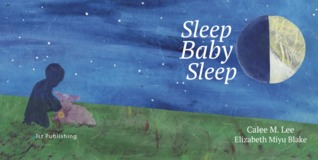 The Blurb:  Sleep Baby Sleep is a classic lullaby paired with enchanting images of families from around the world. Painted Washi paper collage illustrations and soothing words lead little ones into dreamland. With every page turn, the moon goes through its phases and moves across the sky.
Readers in the US, Canada and GB can win a signed copy of this book if they enter by 2nd July.
And finally, 10: A Nutty World: on the Edge of the Rain Forest.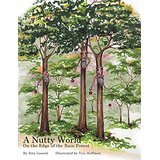 The Blurb: In South America, Brazil nut trees grow on the edge of rain forests. Some Brazil nut trees are more than 1,000 years old. This book is a short non-fiction that tells the nutty story of how a Brazil nut tree depends on the rain forest of South America to produce a crop of yummy nuts. It follows the nut trees' life cycle of connections, letting readers learn and understand its origin and survival. With its beautiful illustrations and informative content, A Nutty World: On the Edge of the Rain Forest is an enjoyable read for both children and adults.
My final choice is a book by Rita Lossett which has 10 copies available for winners in the US, Canada and GB and you have until the 9th of July to enter.
So there you have it, 10 books that could be yours for the click of a mouse. If you're not already a member, it's easy and free to create a Goodreads profile.
Good luck.
Suzie xx
Read more
Audrey Walsh, C.S. O'Kelly, calee m lee, Chris Hoy, Flying Fergus, giveaway, goodreads, James R Hannibal, Jennifer Bell, Kerry McQuade, sleep baby sleep, Terra Mar, The adventures of gracie and monkeybear, The Adventures of Midge and Moo, The Big Biscuit Bike Off, The Crooked Sixpence, The Lost Property Office, The Magic Forest Alphabet: Introducing Letter sounds, Umi's Quills, win free book
Giveaway Ends Today!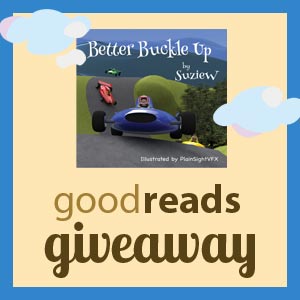 Today is your last chance to win an autographed copy of Better Buckle Up in the Giveaway over on Goodreads.
Entry is free and open to people all over the world. Although you do have to be a member of Goodreads, signing up is free and easy too.
Better Buckle Up is a children's picture book that aims to make car safety fun. You can find out more here but this is what people are saying.
The colourful illustrations are delightful and add a level of humour for the parent to enjoy, while reading the story with their young family.   Callie Carling
A delight for parents and children.     Murboyd
This book does an excellent job reinforcing the importance of buckling up … in a manner that empowers the child to choose and cooperate.    L. Favreau
A very clear and positive message, in a captivating story.    P. Edwards
The winner will be chosen by Goodreads when the competition closes at midnight on 21st June.
So click on the form underneath for your chance to win.
Good luck.
Suzie xx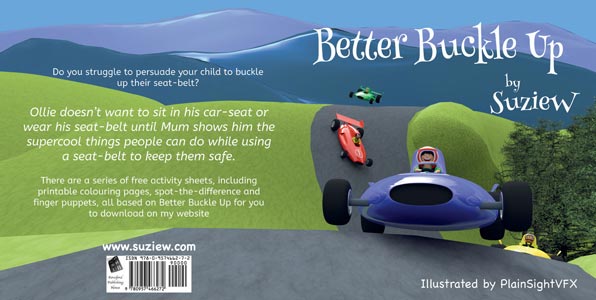 Father's Day
As we come up to Father's Day, I've been looking at some books that celebrate Dads everywhere for you, and Dad, to share with your little ones.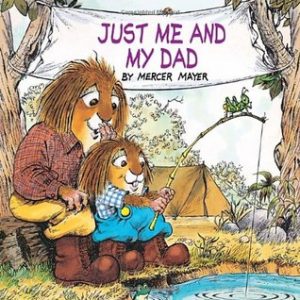 First up is "Just me and My Dad" by Mercer Mayer. The book is part of the well known Little Critters series and is a lovely story about an eventful father-and-son camping trip.
Despite all the things that go wrong, the duo manage to have a great time. The book has detailed illustrations with so much to look at and talk about. A real feel-good read.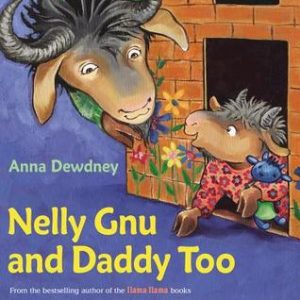 Of course, daughters and dad's can have great days together too. Check out "Nelly Gnu and Daddy Too" by Anna Dewdney, a funny book told in rhyme.  
What I particularly liked about this book is that it breaks with traditional gender stereotypes, so we see Daddy not only building a playhouse with daughter Nelly but cooking her dinner, running errands and reading her stories. What a great dad 🙂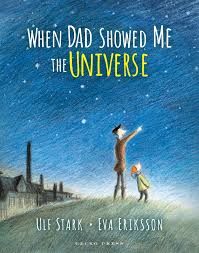 My next choice is "When Dad Showed me the Universe" by Ulf Stark. This book has beautiful, dreamy illustrations which match the wonderous tone of the text.
This is a story all parents can relate to. Dad plans to show his son the magic of the universe with a night-time walk but his trip doesn't go as he's planned and despite the fact his son totally sees the beauty his father is trying to show him, Dad fails to notice. It's not as sad as it sounds, just a really good story that can be enjoyed by parents and children alike.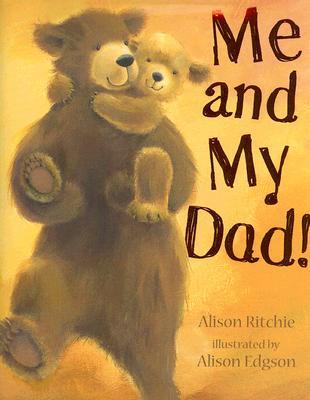 "Me and my Dad" by Alison Ritchie … a role model book for father's everywhere to aspire to.
Daddy Bear wakes Little Bear with tickles and kisses, plays with him, teaches him to swim, protects him from thunderstorms, then cuddles him under the stars for a bedtime story. Wow! What a dad.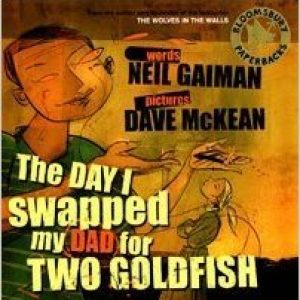 Finally, I've included The Day I Swapped my Dad for a Goldfish, by Neil Gaiman. This is a book for older readers (probably 5 upwards) but adults are going to love the story too. Obviously the title gives away the plot but there are plenty of twists you won't expect as the story unfolds.
I think I share the same sense of humour with Mr Gaiman because, even though it's completely unrealistic that you should be able to swap your father, I find it very funny.
Here's wishing all Dads a Happy Father's day. Have lots of fun whatever you read.
Suzie x
Read more
Alison Ritchie, Anna Dewdney, books about dad, books about fathers, books for babies, Books for children, childrens book, father's day, Just me and my Dad, Keith Negley, Me and My Dad, Mercer Mayer, Neil Gaiman, Nelly Gnu and Daddy Too, picture book, reading with children, The day I swapped my dad for two goldfish, When Dad Showed me the Universe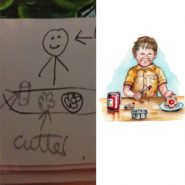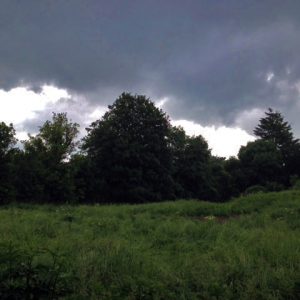 Progress report 1 – Things Evie Eats
Just as I was getting used to the days of sunshine here in Wales, this was the view from my window this morning. You can't see the rain sheeting down in this photo, but believe me, it was torrential.  So, as there was no sun to distract me, I spent the day with my trusty laptop.
For those of you who don't know, my next book is called Things Evie Eats and it's about a little girl with very definite ideas on what she likes to eat.
Most of the pictures for the book are finished. I am waiting on revisions for just two pages from the artist. It's been months since I mocked up the first draft of the book, a blend of images from the web and my less-than-artistic stick figures.
Me v an artist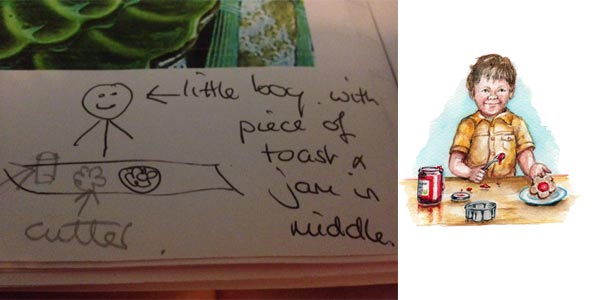 Spot the difference?
Yeah, I'll probably keep with the writing.
I'm super pleased with the watercolour images but getting them into InDesign required some resizing which was problematic because the paper was textured and if I shrunk or enlarged the image the texture got bigger and smaller too. Worse than that, if I shrunk the image too much the texture didn't fill the page. Either the image had to cover the whole page or I had to cut the it out. I decided on the second option, which I didn't really know how to do, so the process involved much complaining about Photoshop.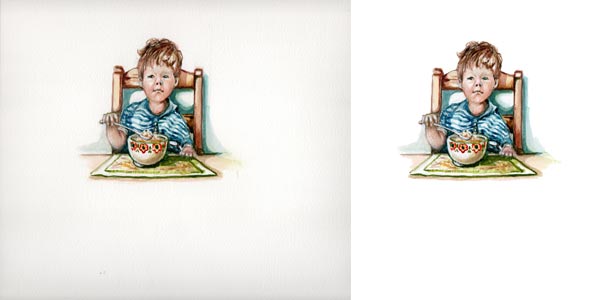 But then I decided I actually liked the effect of the images on the textured paper better, so I had to put a blank page behind the resized images: involving more complaining about Photoshop.
As well as learning how to remove the background from images, I also figured how to make text follow a line in InDesign,  … and discovered the gutters on the house need cleaning out because they look like a waterfall.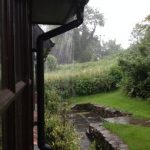 However, the majority of the book is now laid out ready for printing. Not a bad effort for a stormy Saturday afternoon.
Suzie x
P.S Don't forget I have an autographed copy of Better Buckle Up to giveaway over on Goodreads.
---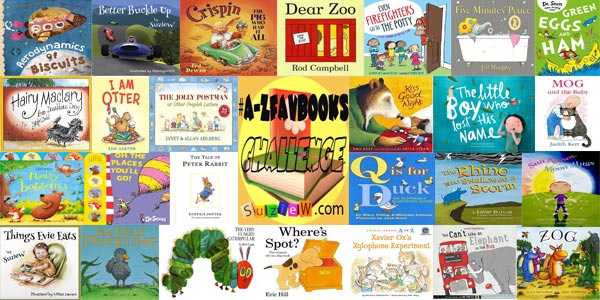 My fav books A to Z.
Last month I did the #AtoZfavbooks challenge: 26 letters, 26 days, 26 books. It was a fun exercise but, analyzing my fav books led to some interesting discoveries.
To rhyme of not to rhyme.
I love reading books that rhyme and yet the non-rhyming books I chose out-numbered them 18/8. Maybe these results are a little skewed as I deliberately didn't fill the challenge with Dr Seuss or Julia Donaldson books but even so, I expected more of the children's books to rhyme. However, even the non-rhyming books often used repetition or alliteration to add interest to the text.
Here's some brilliant rhyming from "Hairy Maclary from Donaldson's Dairy" by Lynley Dodd.
Off with a yowl
a wail and a howl,
a scatter of paws
and a clatter of claws,
went Schnitzel Von Krumm
with a very low tum,
Bitzer Maloney
all skinny and bony,
Muffin McLay
like a bundle of hay,
Bottomley Potts
covered in spots,
Hercules Morse
as big as a horse
and Hairy Maclary
from Donaldson's Dairy,
straight back home
to bed!
I haven't experimented with rhyme in my books, so this is something I'm excited to try out soon.
Animals rule.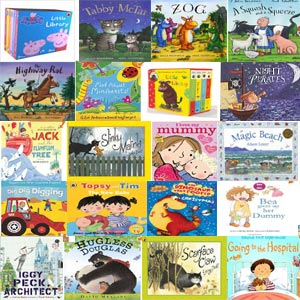 19 of the books featured animals or creatures such as dragons. Most of these were anthropomorphic ie the animals were given human traits. I would have expected more cars, trucks and trains, but maybe that said something about my choice rather than the actual balance of these in children's books. After all, my grandson certainly has more than his fair share of "Bob the Builder" and "Thomas the Tank Engine" books.
Being a scientific sort of person, I had to put this theory to the test. A quick search on Amazon brought up these top 20 titles in the Baby and Toddler Education Section. (6 of these were by Julia Donaldson, so maybe I should have included more in my #AtoZfavbooks.)
Anyhow, "Dig Dig Digging" was the only motorized entry, 8 of the books featured children but 11 were indeed about animals, indicating this does seem the most popular theme for children's picture books. Must take another look at the book I was working on about a cat 🙂
Putting on the style.
Oh, how I wish I could draw.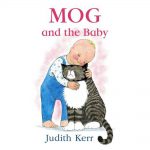 I loved looking at the fantastic variety in styles from the talented illustrators who have worked on these books. From Beatrix Potters beautifully realistic "Peter Rabbit", to the modern lines of "The Little Boy who lost his Name", and Judith Kerr's cuddly cat, "Mog", all the books have gorgeous colours to attract little ones to explore their pages.
"Dear Zoo" and "Where's Spot" are lift the flap books aimed at younger readers and "The Very Hungry Caterpillar" has those lovely holes 'eaten' through its pages. "The Jolly Postman" goes further and includes separate envelopes and postcards which are a lot of fun. Unfortunately, this kind of embellishment is not available through the 'print on demand' technology I use so it's not something I could consider at the moment.
Computer generated magic.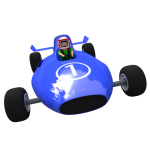 My last realization was that, as far as I can tell, Better Buckle Up is the only book on the list with computer generated imagery (CGI).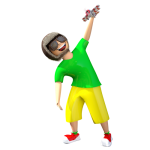 In designing the book, I wanted illustrations that looked like they could have been photographs taken of models, (along the lines of the early Thomas the Tank Engine animations) but I would have expected that in this digital age there would have been more books like this.
Again, I trawled through Amazon.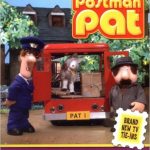 Some Postman Pat books had covers with actual photographs taken from the television programmes, although they were filmed using stop-motion animation not CGI so that didn't really count.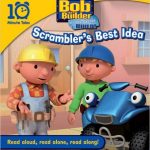 Bob the Builder and Fireman Sam were also filmed originally in stop-motion but have since moved onto CGI but I couldn't find book covers that used this.
So, it looks like Better Buckle Up is something of a rarity and, whilst my next book, "Things Evie Eats," will be in a completely different style with actual drawings, I will be revisiting CGI very soon.
My fav books
To conclude, it seems my fav books are predominately non-rhyming stories about animals. How about you?
Let me know your favourites in the comments.
Happy reading.
Suzie x
---
About empathy?
"Empathy: The ability to identify with or understand another's situation or feelings. The Free Dictionary."
Empathy is our capacity to put ourselves in someone else's shoes, to know how they're feeling and then to use that understanding to guide our actions.  And it's a vital skill every child should learn.
"The brain development of babies has deep implications for society. A human being without a properly developed social brain finds it very difficult to empathise with other human beings. This can pose risks along a spectrum from a lack of emotional resilience leading to depression or general unhappiness, to antisocial behaviour, drug-taking, and criminality, and at the most extreme end to psychotic behaviour." Andrea Leadsom.
How reading helps.
Humans are hardwired to listen to stories. Our brain loves them. They help us make sense of the world and our experiences. A good story can make us laugh or cry. We put ourselves in the protagonists shoes, feeling their pain or their happiness as if it was our own. We are emotionally transported into the story.
Psychologist Dr. Raymond Mar has shown that children begin to understand that other people have thoughts and feelings that are different from their own between the ages of three and five. Reading stories and talking about the behaviour of characters in books is a non-threatening way to help children sort out the rights and wrongs of their experiences.
Reading is a way of thinking with another person's mind: it forces you to stretch your own. Charles Schribner Jnr.
Click To Tweet
And it's not just speculation. One study by neuroscientist Gregory Berns, showed MRi scans of people had heightened connectivity in the area of the brain associated with receptivity for language after reading a passage of a novel.
"The neural changes that we found associated with physical sensation and movement systems suggest that reading a novel can transport you into the body of the protagonist," Berns says. "We already knew that good stories can put you in someone else's shoes in a figurative sense. Now we're seeing that something may also be happening biologically."
Disturbingly, watching TV has the opposite effect, with children exposed to lots of television performing worse in theory of mind tests.
Empathy is seeing with the eyes of another ... and feeling with the heart of another. Alfred Adler
Click To Tweet
Some books about empathy.
And some books to share with your baby.
Whatever you do, make sure you read with your baby. There is no down-side.
Suzie x
---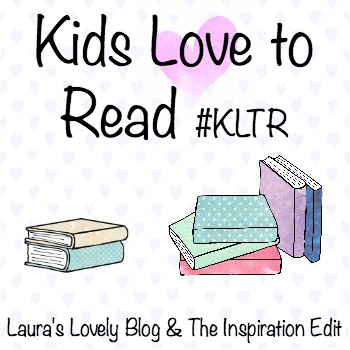 Book review: "The Rabbit ate my Homework" and "The Rabbit ate my Flip Flops".
I spent the sunny afternoon reading "The Rabbit ate my Homework" and it's sequel, "The Rabbit ate my Flip Flops," by Rachel Elizabeth Cole.
Eleven year old Drew Montgomery is having a bad day. He breaks his new bike, after being told not to ride/do jumps on it by his father, and his little sister, Libby, knows what he's done. So, when they find a rabbit abandoned in a box and Libby wants to take it home, she threatens to tell his parents about the bike unless he agrees. Blackmailed and miserable,  with problems at school and rather absent, work-a-holic parents Drew's life quickly lurches from one disaster to another in a hilarious chain of events all centred around the rabbit.
The characters in the book were really well-drawn with Drew and his sister having distinct personalities and voices. Their reactions to the problems of keeping a rabbit hidden in Drew's room were hilarious and spot-on for their different ages. The book has short chapters and rattles along at a cracking pace, just right for the target, middle-grade, age group but will also be enjoyable to adults reading it with their children. I really had to find out how all Drew's problems would be resolved. Needless to say, things did turn out right in the end.  
It says a lot about a book when you want to read it's sequel. So, I set into book 2 of the series, "The Rabbit ate my Flip Flops."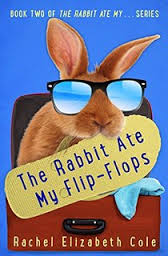 The Montgomery household has now got used to the routine of having a pet house-rabbit but things start to go awry when their parents go out of town and Drew and Libby are taken on holiday with their grandparents. The plan is for Drew's friend to look after the rabbit, but Libby is worried he'll feel abandoned and sneaks him along.
This story sees Drew coping with kids with a mean dog, their grandparents over-bearing friend and a defective campervan as well as Libby finding more rabbits to rescue. It's cleverly plotted so each disaster followed nicely from the one before and events don't feel forced.
I particularly liked the way the relationships between Drew and his friends, both male and female, were drawn and also the realistic way the rabbit pooped and chewed it's way through everything it shouldn't, making a refreshing change from the usual fluffy way rabbits are presented in children's fiction. Anyone considering getting a rabbit for a pet should definitely read these books.
There are more books due in The Rabbit Ate series and they are well worth looking out for,
Happy Reading.
Suzie x 
PS There's a giveaway over on Goodreads for an autographed copy of Better Buckle Up.  Check it out.
Zog by Julia Donaldson…
… Day 26 May #AtoZfavbooks challenge.
It's the last day of the #AtoZfavbooks challenge and the book for Day 26 is Zog, by Julia Donaldson.
Let's face it, you could fill your shelves with books by Julia Donaldson and get a winner every time but let's focus on Zog.
Zog is a young dragon at Dragon school who is learning how to breathe fire, roar and capture princesses. He's very keen, but not always very successful. However, when Princess Pearl volunteers to go back to school with him, he finally gets the gold star he was trying for. But in a clever plot twist, this is not the end of the story. A knight comes to rescue Princess Pearl, who has been having a great time looking after the young dragons and she doesn't want to go.
How will the story work out? Julia Donaldson's brilliant imagination comes up with a happy ending for everyone … even the knight's horse.
Told in rhyme and featuring fantastic illustrations with lively colour and lots of detail, this book is bound to be a winner with you and your little ones.
I hope you've enjoyed my choices for the #AtoZfavbooks challenge. Look out for my round-up of the books and the things I learned along the way coming soon.
Happy reading.
Suzie x
P.S. Read this book? Let me know in the comments below.
P.P.S. Don't forget to share your favourite book title starting with the letter Z in the comments below or post them on facebook or twitter with the hashtag #AtoZfavbooks so I can find them.