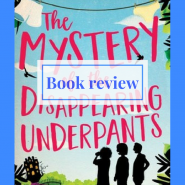 Book review: The Mystery of the Disappearing Underpants
I'm happy to be reviewing The Mystery of the Disappearing Underpants for this month's British Books Challenge.  The book is published today (28th of April) and is the debut novel of Nikki Young.
The Blurb
The Mystery of the Disappearing Underpants is a spy story with a difference.

When Harry and James form a secret agency for the summer, their first task is to investigate the disappearance of Harry's lucky underpants and to prevent nosey neighbour, Stacey, from interfering in their business.

But when a mysterious couple move into an old house on their street, the children are intrigued. Harry and James must join forces with Stacey in order to uncover what is going on at number 35. And with Harry's attention diverted from the hunt for his lucky underpants, will he ever be able to find them?
The cover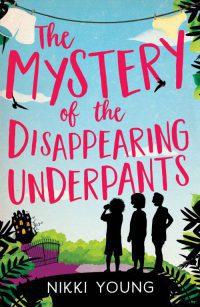 A perfect eye-catching genre cover. So far, so good.
The Story.
The Mystery of the Disappearing Underpants: this story should be a hit with middle grade readers on its title alone.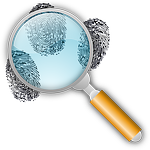 We start off with our would-be spies investigating thefts from washing lines. The initial culprit is unexpected, but harmless, and I was concerned that the story might be a bit bland even for the intended 9-11 age group. Happily, I needn't have worried, as events quickly escalate into something much more sinister and thrilling.
Harry, James and Stacey take turns narrating the events of their summe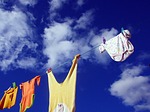 r spy club and I liked that this gives readers an insight into the minds of three children. I loved their imagination and innocent logic as they try to solve mysteries (both real and make-believe) and I liked the way they suspected someone and then discovered they were wrong. For example, after seeing a ladies underskirt on the washing line of a man who lived by himself, they find out he does the washing for his mother. Oops!
There were a few surprises and I never saw the identity of the washing line thief coming. 🙂
A niggle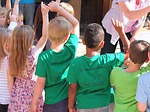 Harry, James and Stacey turn out to be quite a team, but it's not always that way. At the beginning of the book, I didn't like the way the boys treated Stacy. There was a lot of, "I hate girls," "We warned Stacey not to come anywhere near us or we'd show everyone in school the video that shows her playing with dolls like a little girl," and "Let's face it, she's annoying anyway AND she's a girl."
Now, Stacey turns out to be a strong character and she does get her own back but I would have liked a little more gender co-operation from the start.
To sum up.

This is a fun book with a great cover, an engaging plot and a believable cast of characters which I'm sure young readers will identify with – a winning combination.
Nikki Young is an author, a blogger and a copywriter who hails from the South-East of England: perfect for me to link up with the British Books Challenge.
So, do Harry, James and Stacey find the lucky underpants? You'll have to read the story to find out.
Suzie xx
---
---
---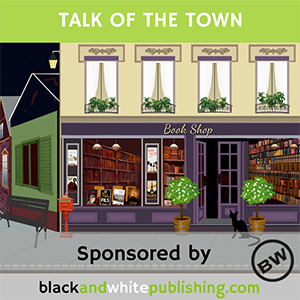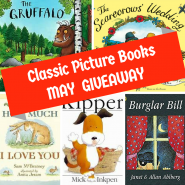 Wanna Win 5 Classic Picture Books?
During the month of May, readers of my blog will be able to Win 5 Classic Picture Books by answering one simple question below.
Titles I'm giving away include:
The Gruffalo by Julia Donaldson
Kipper by Mick

Inkpen

Burglar Bill by Janet and Allan Ah

lberg

Guess How Much I love You by Sam McBratney
The Scarecrow's Wedding by Julia Donaldson
They are all firm favourites in my house and are perfect for reading with your little one.
The winner will be drawn on 1st June.
Good luck
Suzie xx
PS The more you share, the more chances of winning you'll have. 🙂
---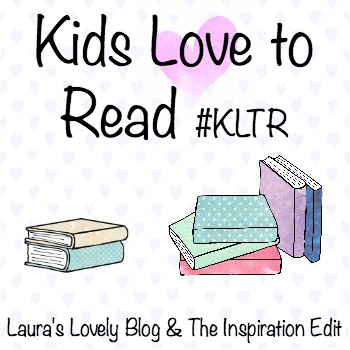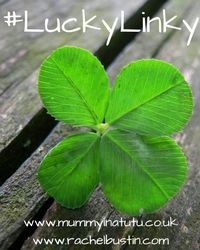 Potions in the Pizza: Book Review.
I received a copy of Potions in the Pizza, the first book in The W.H.O Files, a middle grade fantasy by Mikey Brooks. It's a fun read about a family of witch-hunters… think, a kids version of Supernatural.
The Cover

Brooks is an illustrator as well as an author and this cover screams, "read me I'm an exciting book." Once again, I wish I could draw *sighs*
The blurb:
10­-year-­old twins Ethan and Emmy's parents have never told their kids what they do for a living. Then just before Halloween, while their parents are away on an emergency business trip, Ethan, Emmy, and their best friend Jax discover a HUGE secret: could the twins' parents actually be . . . witch hunters?

Meanwhile at school, a new team of glamorous lunch ladies arrives on the scene, serving meals that taste way too good to come from a school cafeteria. There's only one logical explanation: they're witches, and the meals they serve are spiked with a dangerous potion! Why have witches come to Roosevelt Elementary? Where have Ethan and Emmy's parents gone? Can it be a mere coincidence that their parents left just as the witches arrived? Whether they're ready or not, Ethan and Emmy have only one option if they want to save their school and find their parents: become witch hunters themselves.
I love the idea of dinner ladies being witches (I think they may have been witches when I was at school too!)
My Review.
First off,  Potions in the Pizza is very American and, whilst I have watched enough American TV to understand ballpark, wieners and blacktop (actually, I had to Google that one to be sure), British ten-year olds might not. Of course, if you're from the US this is not a problem.
Obviously I am far from the target audience for this book and I found the first part was a little slow and tied up with 'school issues.'
Also, I didn't warm to Ethan and Emmy straight away. Ethan is a bit whiny and ineffective and Emmy is rather self-opinionated and selfish. But it did give them plenty of room for improvement and they both had great character arcs. Once the book gets down to the nitty-gritty of dinner ladies being witches and Ethan discovers the truth about his parents real job, the story cracks along at an enjoyable pace and by the end I was totally rooting for the twins as they battle to save the day.
And that brings me to a niggly issue I had with the plot. Why on Earth did Ethan and Emmy's parents not come up with a cover story about their job? Even real-life secret agents usually have some pretend-legitimate occupation that they use to explain their long trips out of town to their family and friends. Saying you work in the  'family business' is surely the quickest way to induce wild speculation with your children or their class mates. What were they thinking?
Also, I felt the dialogue was trying too hard at times, but again I'm somewhat older than the target age-range, so maybe the language would be 'cool' if I was younger. There are also some fight scenes but they are not gory and are suitable for the target audience.
My verdict
Overall, I enjoyed the book. It is a 'witch-hunting' story with a lot of twists and turns and I did not expect the ending. (No, I'm not telling). I will be looking out for Book 2 to see how the story unfolds.
About Mikey Brooks
Mikey Brooks is a small child masquerading as adult. On occasion you'll find him dancing the funky chicken, singing like a banshee, and pretending to have never grown up. He is the author/illustrator of several books including BEAN'S DRAGONS, the ABC ADVENTURES series, and author of the middle-grade fantasy-adventure novel, THE DREAM KEEPER. He spends most of his time playing with his daughters and working as a freelance illustrator. Mikey has a BS degree in Creative Writing from Utah State University. He is also one of the hosts of the Authors' Think Tank Podcast.
Love the bio. Would like to see Mr Brooks dancing the funky chicken lol.
I received a copy of The W.H.O. Files: Potions in the Pizza from Future House Publishing in exchange for an unbiased review.
Suzie xx
---
---
Ever mistaken a bear for a dog?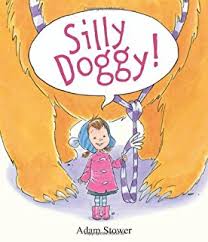 Come on, it's an easy mistake to make.
Silly Doggy! by Adam Stower is a very funny book that always makes my grandchildren laugh.
The story goes:
Lily, sees something in her garden.
It was big, brown and hairy. It had four legs, a tail and a big, wet nose, and Lily had ALWAYS wanted one…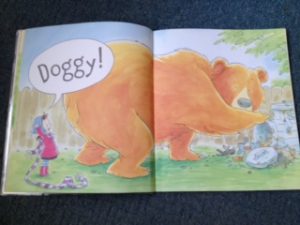 Oops! My grandchildren love pointing out she's got it wrong.
Lily does all the usual 'doggy' things with her new pet. She takes it for a walk, tries to teach it tricks and gives it a bath. But Lily's parents put notices up around the neighbourhood and find the bear/dog's owner. (Yes, really)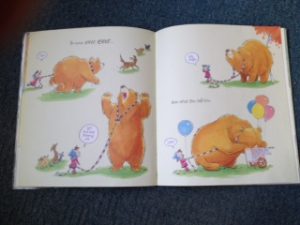 Lily is upset but the great twist at the end of the story is when she looks out in the garden and see's…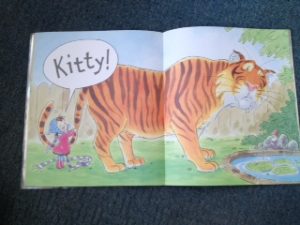 Yep, she's got it wrong again. Cue hilarious laughter from grandchildren.

Adam Stower is an award winning UK Author/Illustrator who has published books with such awesome titles as The Diary Of A Monster Catcher, Slam!: A Tale of Consequences and Grumbug!
Silly Doggy! was my March book for the British Books Challenge 2017. It's a fun book about mistaken identity and I will be looking out for more by Adam Stower.
Suzie xx
---
---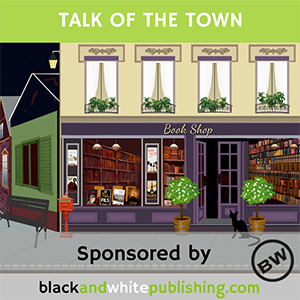 The Very Hungry Caterpillar Day.
March 20th 1969: the day that Eric Carle published The Very Hungry Caterpillar. It's a truly classic book and one of our favourites. In honour of this, March 20th is now officially "Very Hungry Caterpillar Day."
A staggering 38 million copies of the book have sold worldwide and it's been translated into over 60 languages. There are board book editions, popup book editions, editions with cloth caterpillars and ones with holes through the pages inviting little fingers to explore. And they all have Eric Carle's distinctive collage style of illustration that children find so appealing.
What better way to celebrate Very Hungry Caterpillar Day 2017 than to hear the story told by my three year old grandson? I should warn you he does get distracted by a siren passing on the road outside but you also get his awesome comments 🙂  You can tell we've read this book a LOT.
Celebrate your own Very Hungry Caterpillar Day by downloading colouring pages from the Eric Carle website. Or have a run to the shop to collect a feast of the things the caterpillar ate?
Have fun
Suzie xx
---
---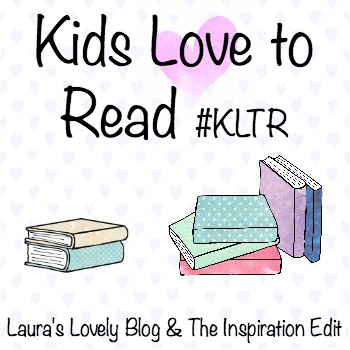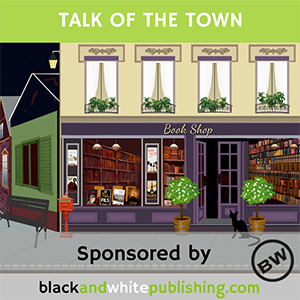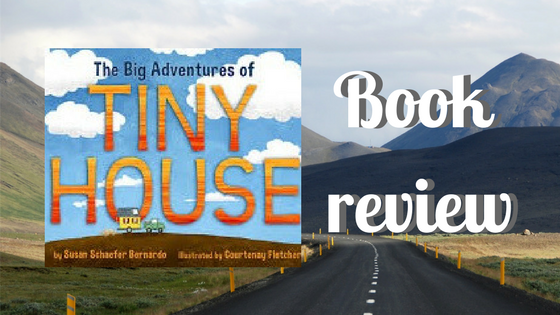 I was really excited to receive an advance copy of The Big Adventures of Tiny House by Susan Schaefer Bernardo.
The Blurb
An old farmhouse gets recycled into something new: Tiny, a little house with a big heart and wheels. With the help of his friend Big Truck, Tiny travels thousands of miles across America. Along the way, he meets cool new friends like Shiny (an Airstream), Waverly (a houseboat) and Buster (a converted school bus). In the end, Tiny realizes that he has exactly what it takes to be a real home.
Sounds fun.
I got the grandchildren to put it through its paces.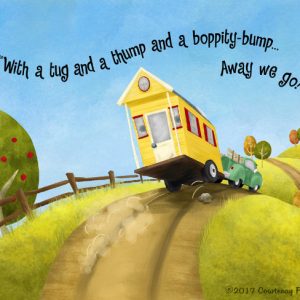 Firstly, the four-year old is big into rhyme at the moment, so the rhyming text was a success. He thought it was hilarious when I got my tongue tied on,
"If you're looking for adventure, just follow me,

to the axle-hoppin,' wheel-stomping, Tiny House jamboree'.
He also likes anything with wheels and he'd never seen anything resembling the quirky tiny houses. It was also good when he got to see the hammers and saws used to change the farmhouse into a house on wheels.
Tiny house goes on his adventures around America, stopping at New Orleans, Texas and the Rocky mountains. Grandson liked the maps and the place names didn't phase him – I don't suppose he would have known British places so they made no difference.
There was slightly too much writing to keep the attention of my two-year old grand-daughter.  but she enjoyed looking at the pictures and shouted 'Beep Beep' every time she spotted Tiny House.
The illustrations
The pictures are gorgeous and there was lots of detail for us to look at and talk about.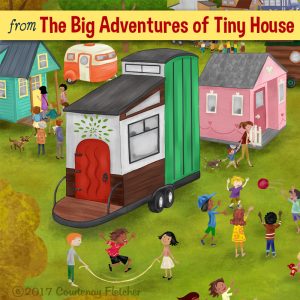 The verdict
This is an unusual and fun book which both me and my grandchildren enjoyed.
It's message is a lovely one:
He could be a home anywhere, because home wasn't a place,

Home was a feeling, a smile on your face.
Although my grandson concluded he wouldn't like to live in a tiny house because he'd never know where to find it. You have to laugh.
The Author/Illustrator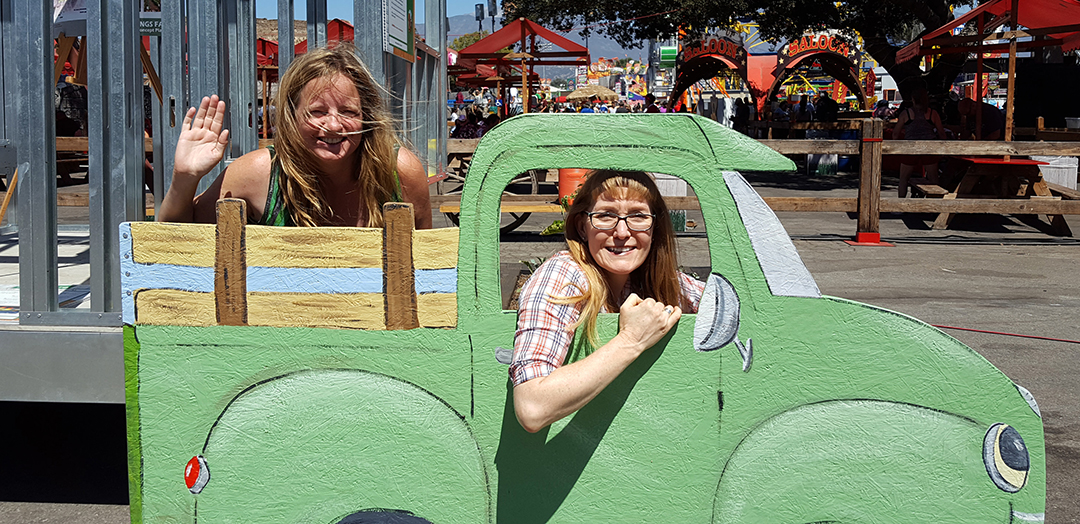 This is the third book by talented author/illustrator combo Susan Schaefer Bernardo and Courtenay Fletcher. Best friends since they met during a Mommy and Me class, their other books are Sun Kisses, Moon Hugs and The Rhino who swallowed a Storm, which was co-authored with Reading Rainbow host, LeVar Burton.
Order information
The book is due for release on April 25th but it's available to pre-order from www.ShopOnceUponaTime.com.  If you order before 31st of March, you could win a $50 gift certificate. The author is also donating a portion of sales to Makes a Village, an organization that builds tiny houses to help people facing homelessness.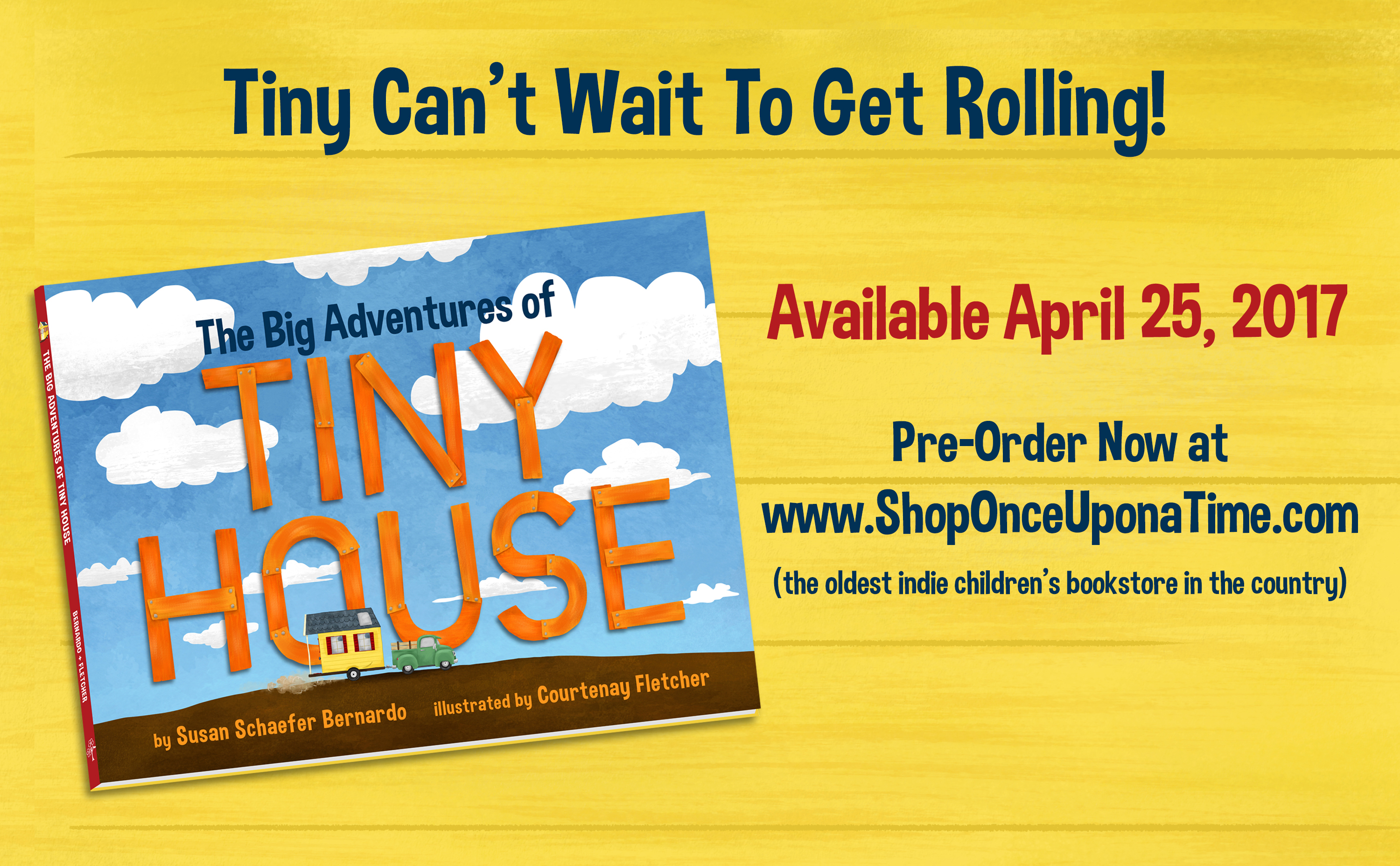 Happy reading
Suzie xx
---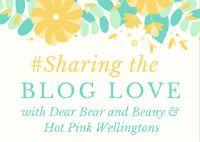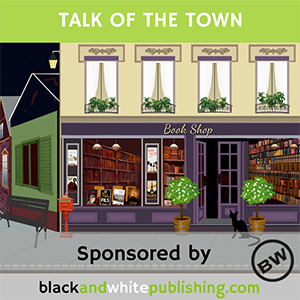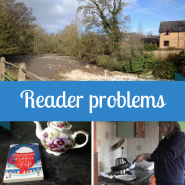 A quick mish-mash of a post today.
First off, a book I won arrived today.
And there's nothing like a new book to cheer up the day, so a big thank you to Cosmochicklitan for the giveaway.
Christmas at the Comfort Food Cafe is the second book in the series by Debbie Johnson and it looks scrumptious. But…
Reader problems No 1. Do I read it now or wait until next Christmas?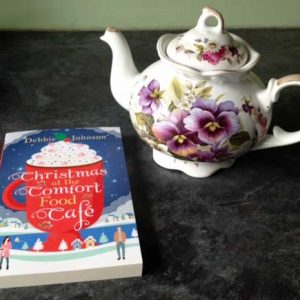 Secondly, a quick update on Pancakes! An Interactive Recipe Book by Lotta Nieminen.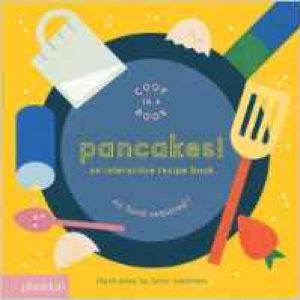 You might remember I ordered this book to roadtest with the grandchildren but it hadn't arrived when I wrote the post. Well, the 2-year old liked operating the various flaps and wheels. However, one has required sellotaping already so I am a little worried how robust it will be.
Reader problems No 2: Having to repair the book in the first day.
The 4-year old was less impressed. He told me there was 'no story' but he was keen to try out the instructions to make real pancakes. Check out my pancake tossing skills below. (Only one pancake landed on the side of the pan and fell to pieces. Who said I was no good at throwing and catching?)
Storm Doris
Finally, Storm Doris hit Wales in February. I lay in bed watching the rain lash at the window, listening to the wind rattling the roof and re-arranging the garden. I love storms and although Doris missed out on the thunder and lightning, it was still a beauty, leaving the river running through the village in full flood.
Reader problems No 3: spending time clearing up after the storm when I should been reading.
I meant to post this video last week but didn't get round to it. Must try harder.
Happy reading till next week.
Suzie xx
---
---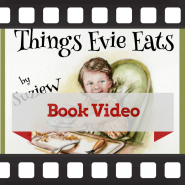 Things Evie Eats book video
Remember the trouble I had making the video for Better Buckle Up? I'm happy to report the Things Evie Eats book video went far more smoothly. (Probably only a pain point 4/10)
A video is a great way to get a feel for a book before you buy from a new author and is good for entertaining your child when you're busy.
… I still cringe when I hear my accent though lol.
Hope you and your little ones enjoy the story.
Suzie xx
PS You can get a copy of Things Evie Eats for Kindle or in paperback … for the times when reading it yourself with snuggles are in order.
---
---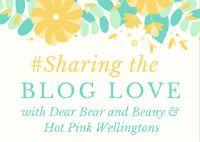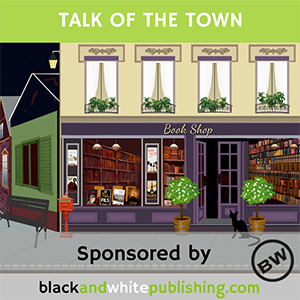 Picture books about Pancakes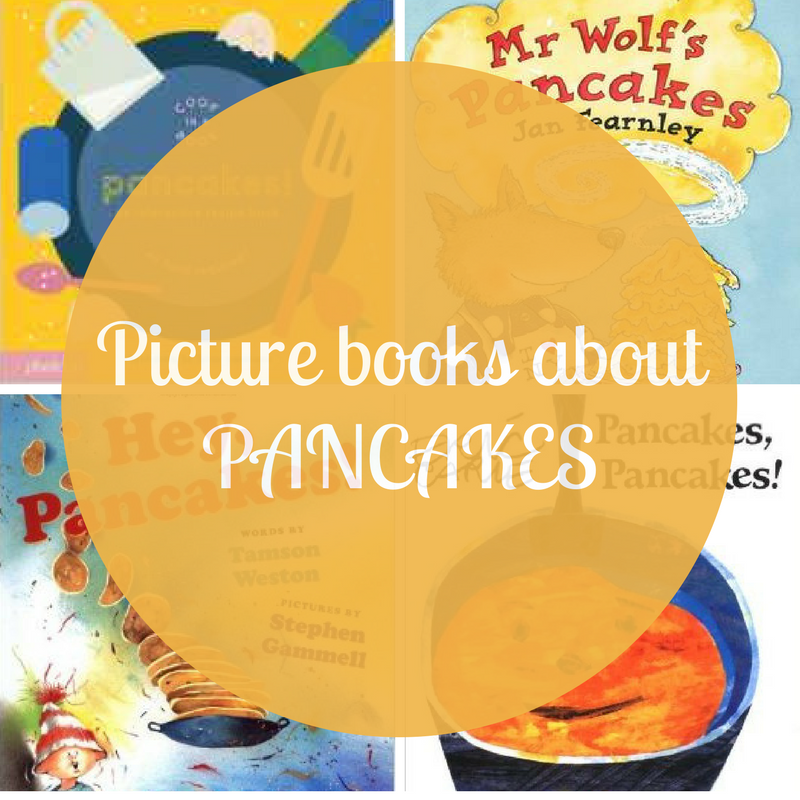 Pancake Day, or Shrove Tuesday,  is almost upon us. 28th February is the day people all over the UK try tossing those eggy, milky mixtures. It's a strange ritual. My kids found it hilarious because I'm pretty hopeless at throwing and catching. And yes, some of my culinary wonders have ended up splattered on my cooker and worktops. So to get you in the mood for throwing your cooking around your kitchen, here are some picture books about pancakes.
Pancakes, Pancakes by Eric Carle
Jack wakes up and wants a pancake but his mother doesn't have the ingredients. So starts an incredibly detailed description of Jack as he cuts the wheat and grinds it into flour (I told you this was detailed), collects eggs from the hen, milks the cow and churns some butter. He then makes jam, lights a fire and finally gets round to cooking the pancakes.
This is the same style as our favourite The Very Hungry Caterpillar but not quite as catchy. However, it is a great way to explain (in glorious technicolour) how to make a pancake. Although I'd recommend you buy the ingredients from the supermarket and use your cooker.
Mr Wolf's Pancakes by Jan Fearnley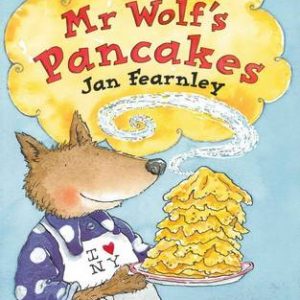 Another story about someone waking up wanting to eat pancakes. Unsure how to do it, an uncharacteristically pleasant Mr Wolfe asks lots of his neighbours to help him but they refuse – very rudely. Even more rudely, once Mr Wolf has made the pancakes, they come round to ask him to share them. The twist in this tale is that Mr Wolf decides to share. But is Mr Wolfe as pleasant and polite as it seems? Nope. Once they're in his kitchen, he eats the neighbours!
This is a tale with lots of opportunity to talk about good/bad behaviour and sharing – as well as making pancakes.
Pancakes! An Interactive Recipe Book by Lotta Nieminen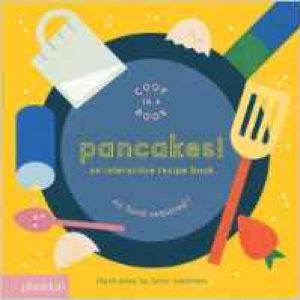 This is such an unusual book you really need to watch the video to appreciate it. By a series of flaps and wheels, readers mix and cook their pancakes. I ordered a copy of this book to share with the grandchildren but it hasn't arrived as I write this. I'll update you all when we've road-tested this book.
Hey Pancakes by Tamson Weston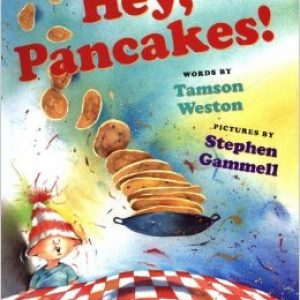 I've included this last book because I love the illustrations. They are so colourful and bright and full of movement – true homage to the humble pancake.  It also has the recipe for Grandma's Pancakes at the end for good measure.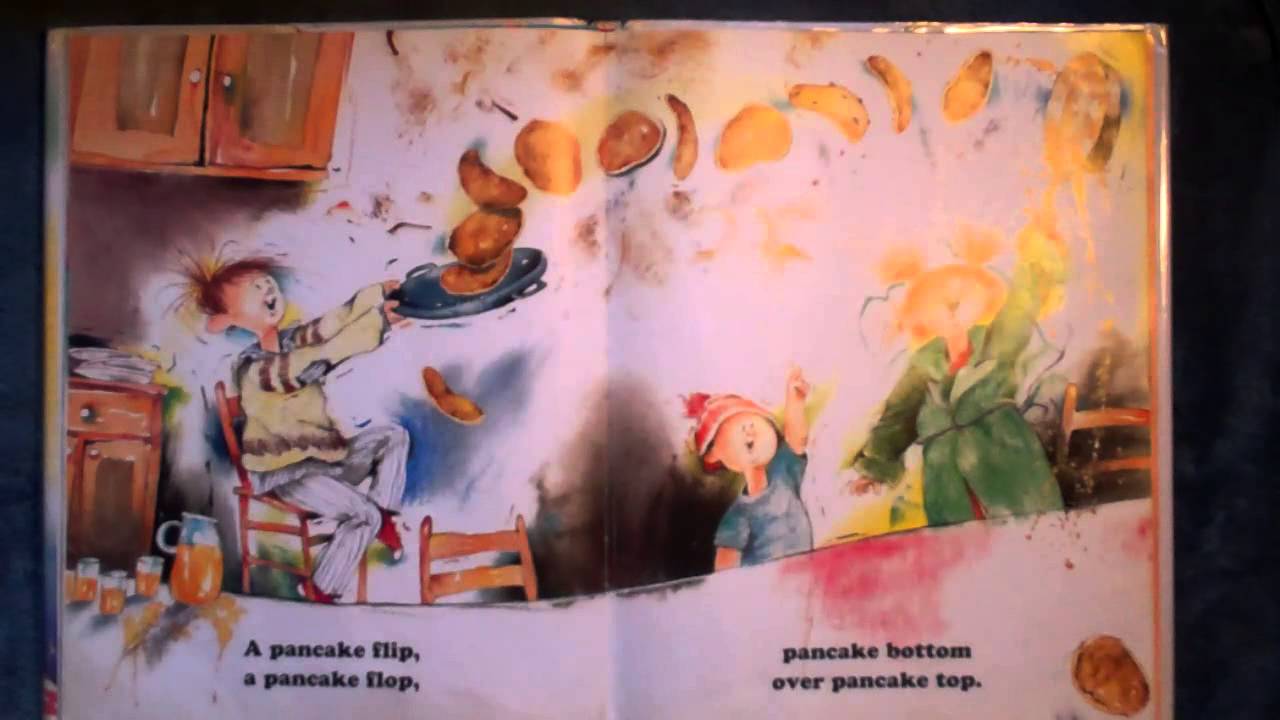 Have a great pancake day.
Suzie xx
---
---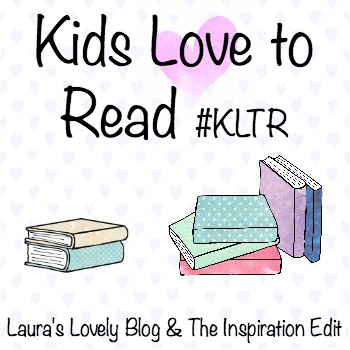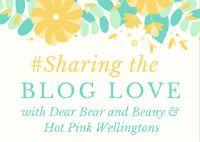 It was bedtime in the Jungle: book review for your little adventurers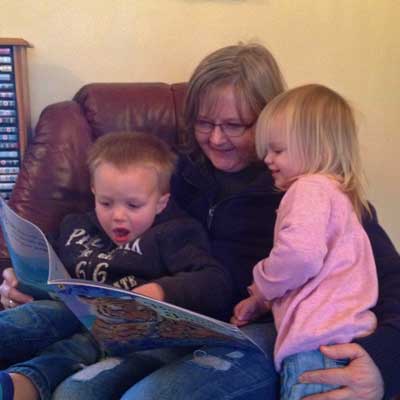 We have a new favourite book in our house. It was Bedtime in the Jungle by John Butler is a gorgeous picture book. Honestly, I want to cuddle up with the animals as their parents settle them down to sleep as night falls myself.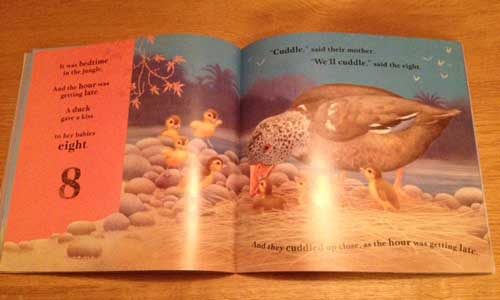 There are crocodiles and rhinos, monkeys and wolves and a fold up extended page with baby elephants.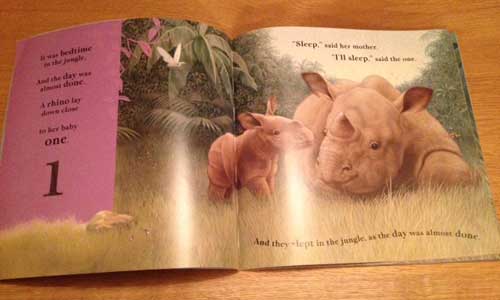 The book works on two levels. On one hand it is a counting book; count the baby animals (and even the little white moths if you're feeling enthusiastic).
On another level it has a gentle repeating text with just the right amount of rhyme to settle down baby humans too.
It was bedtime in the jungle, And the stream was shining blue,

A monkey made her bed, For her babies two.

"Rest," said the mother. "We'll rest," said the two.

And they rested in their bed, By the stream shining blue.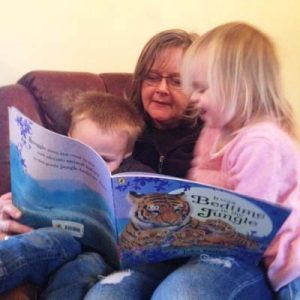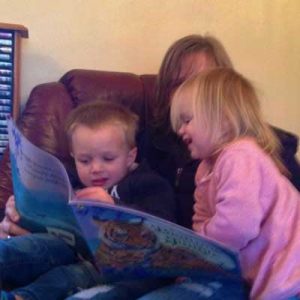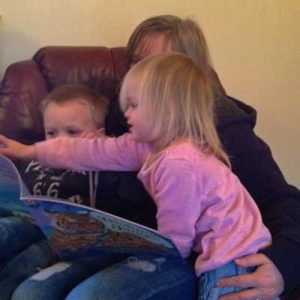 There is so much to see and talk about in the artwork which is realistic yet cuddly.  It comes highly recommended by me and the grandchildren.

John Butler is a UK author/illustrator who has written more than a dozen books for children and illustrated over sixty. His books have been published in more than 20 countries. It was Bedtime in the Jungle is my February book in the British Books Challenge.
Suzie xx
PS This is the second time I've written this post due to my website being hacked! Some people need more to fill out their day.
---
---