Book review of Six Brave Explorers
I was searching in the loft the other day when I came across some books my own children had owned. Six Brave Explorers is a pop-up book by Kees Moerbeek. My grandchildren immediately claimed it for their own.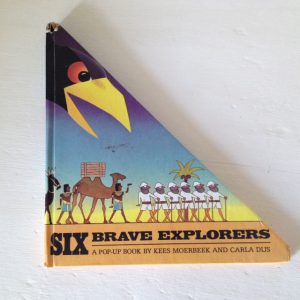 The triangle shape of Six Brave Explorers is intriguing in itself but it doesn't prepare you for the surprises inside. There's the 'rare bird' (which eats one of the explorer's but no-one seemed to mind!)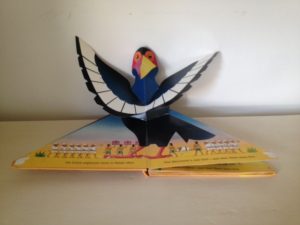 And the hyena (who takes out another explorer)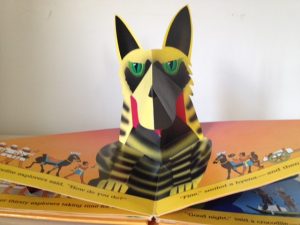 If you're thinking this all seems a little bizarre, you could be right. Here's the story in it's entirety.
Six brave explorers came to Egypt alive. One discovered a rare bird … and now there were five.
Five hungry explorers looking for a store. One asked a Cobra … and then there were four.
Four thirsty explorers taking time for tea. One poured for a panther … then there were three.
Three explorers said, "How do you do?" "Fine," smiled a hyena … and then there were two.
Two sleepy explorers glad the day was done. " Good night," said a crocodile … and then there was one.
One smart explorer finally used his head. He hurried home alone and there he stayed in bed!
OK, it's not the most interesting plot and, yes, you could use it as a counting book. But you don't buy Six Brave Explorers for that reason. It's beauty is in the pop-ups which I have to say have survived my three children and now my grandchildren admirably well.
Shadow Play
We've had this story at bedtime for over a week now and, quite by accident found out it is brilliant for shadow play on the bedroom wall. I tried and failed to take a good picture of this but I'm sure you can imagine the crocodile casts a wonderful shadow when back-lit by a torch.
Were all these disappearing explorers scary? Did the teeth on the crocodile silhouette give the grandchildren nightmares? Not at all. It's still the book that the 2 year old and the 4 year old chooses.
Six Brave Explorers is now out of print but copies can still be found on Amazon.
This was an unexpected find and a great hit.
Happy reading
Suzie xx
---
---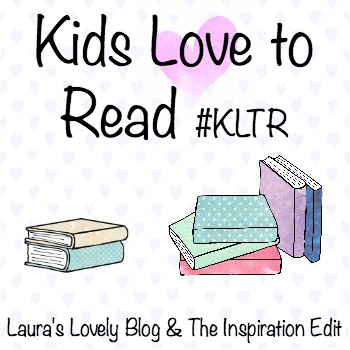 And the winner of the June Giveaway is…
There were over 500 entries in my June Giveaway for the 5x Famous Five colour short story books and I heard from lots of raving Enid Blyton fans. It was so nice to meet you all.
I'll be sorry to part with these books, but the mighty KingSumo has chosen a winner. And it is…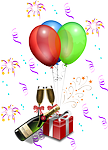 … Jackie!!
So, well done to Jackie and sorry to everyone else.
The summer sun is burning down here in sunny Wales. Hope it's shining with you but just in case it isn't, here's a photo of Aberystwyth beach.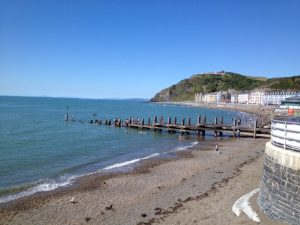 Happy reading
Suzie  xx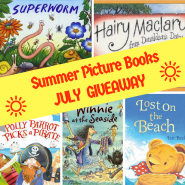 Win 5 Summer Picture Books in the July Giveaway
Well, summer is in full swing here in sunny Wales. To celebrate the long hot days, I've got some special summer picture books for you in this month's giveaway.
July's titles include:
Lost on the Beach
Winnie at the Seaside
Polly Parrot pics a Pirate
Superworm
Hairy Maclary from Donaldson's Dairy.
All you have to do is answer one simple question on the form below.
I'll be drawing the winner via KingSumo on the 1st of August.
Good luck and happy summer everyone.
Suzie xx
---
---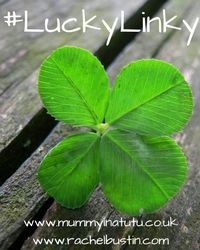 Book review: Where's the Dragon by Richard and Jason Hook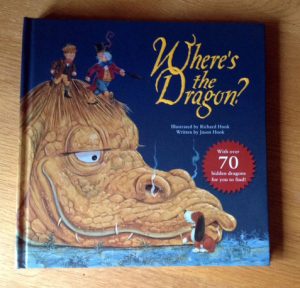 We have a new favourite story in our house. Where's the Dragon?
, written and illustrated by father and son duo Richard and Jason Hook, is a book with gorgeous pictures full of hidden dragons.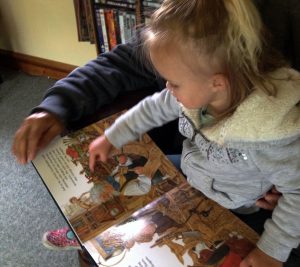 With over 70 dragons hiding in trees, mountains and lakes, this is the Where's Wally of the dragon world. It has fantastic embossed pages and shiny spot laminations which makes the dragons really pop. My grand-daughter loves the 'bumpy' feel of this book. At £9.99 it was quite expensive but it is a hardback and doesn't show any signs of wear after our many, many readings. I think it was well worth the money.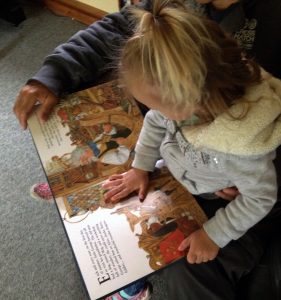 The story tells of George and his grandfather who go on a 'dragon hunt.' George can see dragons everywhere but grandfather doesn't see any… even after they eat his boat. (Grand-daughter loves that part).
Where's the Dragon has a quaint old-fashioned feel and the dragon is super cute.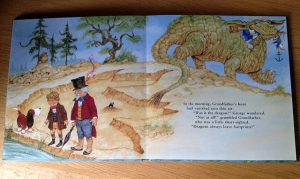 The suggested age range for the book is 4 – 7 years but grand-daughter loves it and she's only two.
Where's the Dragon would make a great birthday or Christmas present.
Happy reading
Suzie xx
---
---
---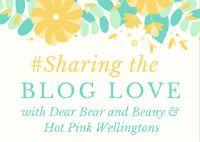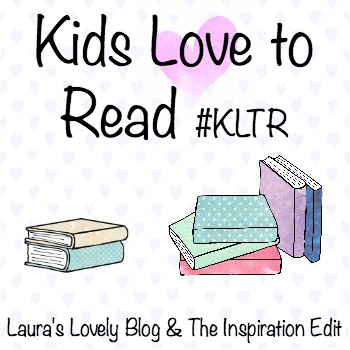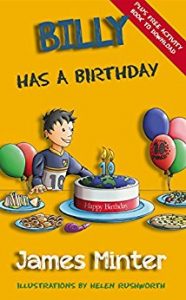 Billy has a Birthday
Billy has a Birthday is the first book in the eight book Billy Books series by English author, James Minter. Aimed at children between 7 and 9, they deal with the important issue of bullying.
Very often we see bullying in a school setting, but in this first book our hero, ten year old Billy has to deal with two older boys who demand money from him. Unsure how to handle the situation, Billy gives them the birthday money he has just received from his Grandad. Luckily, Billy's friend Max tells Grandad what has happened. Together they hatch a plan to get the money back and stop the bully's.
The characters.
Billy and his friends are great characters. The bullying incident comes relatively late in the book by which time we've got to know Billy well. He's ten years old, trying to be grown-up but not really there yet: it's a struggle we can probably all relate to.
My favourite character is Billy's Grandad. He's awesome; knowing just how to make Billy feel special. I especially liked that it was Grandad who foils the bully's. It's not often grandparents come out as the hero's.
A special mention should go to the illustrator, Helen Rushworth. There is a picture at the start of each chapter and I thought they were just right for the narrative.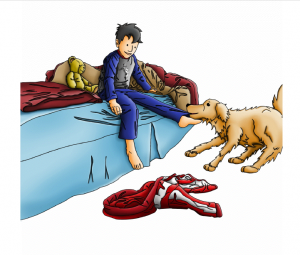 The story gives a clear message that you should always reach out and ask for help when facing bully's. There is free activity book and some teaching notes to go with the book which will make talking about the issues raised easier either with your child individually or in a classroom setting.
Final thought
I'm going to leave you with the dedication from the book, which says it all.
To those who think bullying and aggression are the way to go through life; you are so wrong.
The British Books Challenge

I'm including Billy has a Birthday as my June book in the British Books Challenge.
Although James Minter has only been writing since 2009, he has already penned fourteen books.
This is a well-written story that deserves success.
Happy reading.
Suzie xx
---
---
Wow, there were nearly 700 entries in the "Win 5 Classic Picture Books" contest. Kingsumo made the draw and the May Giveaway Winner is …
… cue awesome drum explosion from my daughter …
… and the May Giveaway Winner is Katie.
 Commiserations to everyone else.  In the meantime, there are eleven awesome ebooks for children to download for free, including my own Better BuckIe Up. You can read on your Kindle, your phone, your tablet or on your computer; just download the file type you'd prefer.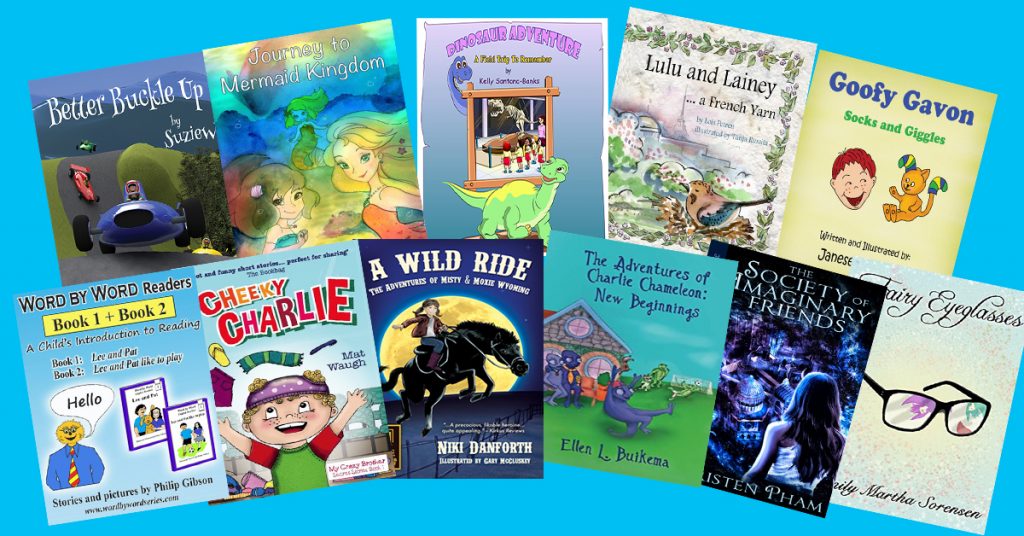 Congratulations to Katie.
Happy Reading everyone.
Suzie xx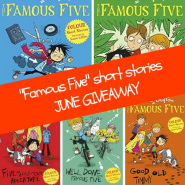 Win 5 Famous Five colour Short Stories
You could Win 5 Famous Five colour Short Stories in the June Giveaway. With up-to-date illustrations, these books are a perfect introduction to a world of Enid Blyton adventures for readers aged 6 – 9.
Titles in the giveaway include:
Five and a Half-term Adventure
Well done, Famous Five
Good Old Timmy
George's Hair is Too Long
A Lazy Afternoon
All you have to do is answer one simple question below.
I'll be drawing the winner on the 1st of July.
Good luck everyone.
Suzie xx
---
---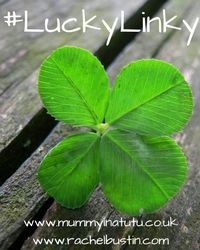 Famous Five
I grew up on a diet of Enid Blyton. Oh, how I wanted to be one of the Famous Five; solving mysteries and having adventures.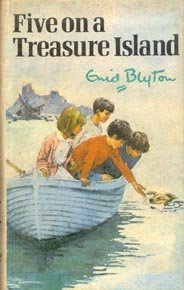 There were twenty-one Famous Five novels in all. Enid Blyton could write a book in a week!!! (Excuse me while I have an "Oh, how I want to write as fast a Enid Blyton" moment.)
The first book, Five on a Treasure Island, was published in 1942. It's a product of a different age. Even though the oldest of the children is just 12 years old, they roam about the countryside unsupervised; they attend boarding school and have parent's rich enough to own islands. But that doesn't take away the fact that our heroes still outwitted criminals, solved crimes and had loads of fun.
What I didn't know was that Enid Blyton also wrote a series of Famous Five short stories for publication in magazines. These have now been released as books in their own right by Hodder. As I'm working on a middle grade book at the moment, I got hold of a few of the books to see what they were like.
Famous Five colour Short Stories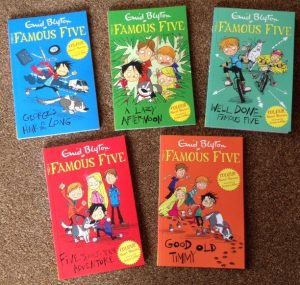 At 80 pages long, they're not too long for beginner readers and I was happy to find that they have lost their cutesy 1950's image and look current and fresh for modern kids. Inside, the illustrations are full colour too, giving them an almost comic book feel.
I did worry whether the 1950's language might jarr alongside the contemporary artwork but I think it stood up admirably.
Readers of my blog will know I'm a BIG fan of text that complements the illustrations and tried to incorporate that into my own picture book design.  Jamie Littler, the artist on the Famous Five books, does this really well.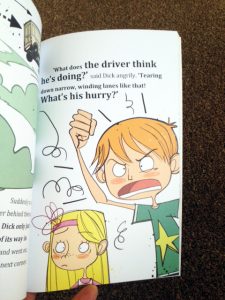 What are the books about?
 Five and a Half-term Adventure
George's dog Timmy sniffs out an adventure when he spots some suspicious-looking passengers on a train. He is very interested in one of them, but what has he spotted? Can the Famous Five solve this mystery?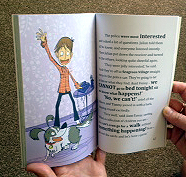 Well done, Famous Five
The most famous racehorse in England is being trained in Kirren, and the Famous Five are eager to watch. But when the horse bolts the Famous Five need to think quickly to make sure he isn't lost or injured. The whole of England is depending on them.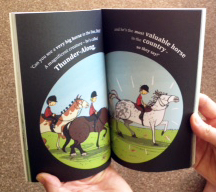 Good Old Timmy
After the Five see a boy being kidnapped at the beach, they set out to find him. But where have the kidnappers hidden the boy? Will Timmy lead them to the answer?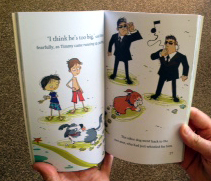 George's Hair is Too Long
Borrowing some scissors is the beginning of an adventure for the Famous Five, as George manages to get mixed up with some burglars. Julian, Dick and Anne are too busy eating ice cream to realise that George is in trouble! Will the Famous Five manage to catch up with the burglars and save the day?

A Lazy Afternoon
It's so terribly hot, the Famous Five are having a lazy afternoon…but the gang don't get the peace and quiet they imagined! What are the men on the motorbikes up to? Can they be stopped?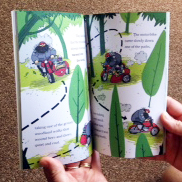 My verdict.
I really liked this new series. I'm sure they'll be a hit for children transitioning from early readers to 'real books' and reluctant readers will love the colourful pages. They are a great introduction to Enid Blyton's classic series.
I'll be giving away copies of the 5 books in my June Giveaway, just answer the easy question below.
Thanks for reading
Suzie xx 
PS There's still time to enter my 5 Classic Picture Books May Giveaway
---
---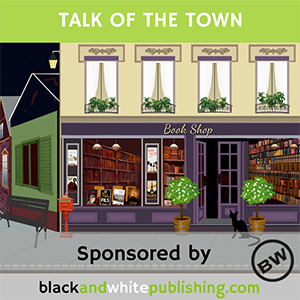 Check out the latest book review of Things Evie Eats
It's always exciting when you get a book review so I wanted to share the awesome review of Things Evie Eats that I received from the lovely Karen over at  The Next Best Thing to Mummy.
This is a delightful book with fantastic illustrations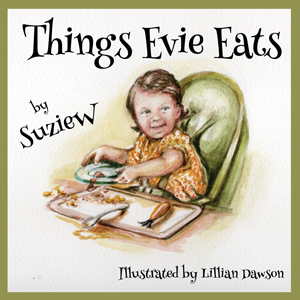 Especially useful to parents and carers who have a fussy eater
Reviews are like gold dust to authors. You can read the full review HERE while I do my happy dance.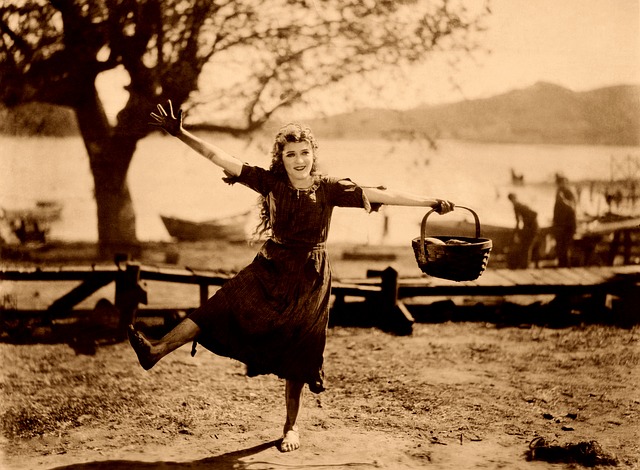 Thanks, Karen.
Suzie xx
---
---
Book review: Pilot Jane and the Runaway Plane
I was really happy to win a copy of Pilot Jane and the Runaway Plane recently in a giveaway on GetKidsIntoBooks. I thought it looked like a great story to share with the grandchildren. Here's how we got on.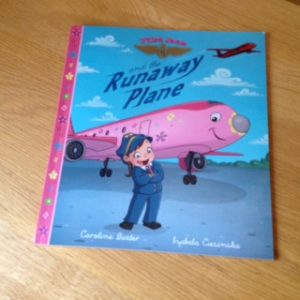 My grandson is into planes at the moment. His favourite toy is "Dusty Crophopper" 🙂 So he was excited to see a new book about a plane. He wasn't bothered that the plane was pink and flowery in the slightest but I was a little surprised by it's colour given the books clear attempt to challenge gender stereotypes.
The illustrations are bright and colourful with enough detail for us to talk about, and I loved the characterization of Pilot Jane. Grandson is also a big fan of rhyming text, so that was another point in the books favour.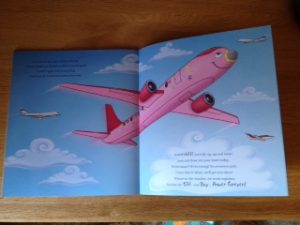 The Pilot Plot
The story tells how Pilot Jane and her plane, Rose, go on lots of exciting journey's. They earn such a great reputation that the Queen asks them to fly her to a party.  Unfortunately, Rose eats 'cake fuel' the night before and wakes up with 'plane flu.' which means that Jane has to take the Queen in 'Mighty Mitch'.
Naughty Mighty Mitch is cross that his new pilot is a girl.
Mitch groaned: "A girl pilot! Bother and drat!

I'll bet she's slow – or a big scardey cat!"
He starts to behave badly to scare her and to show off. (Grandson liked that he was naughty lol) But there's a storm coming and that's where things start to go wrong. Happily, Pilot Jane has the necessary skills to bring the situation under control and the pair ends up working together and becoming friends.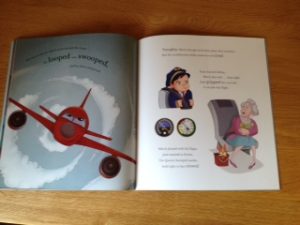 The story kept grandson's attention the whole time. He insisted on a second and third reading straight away and asked, "Where's the new book about the plane?" on his next visit. That makes Pilot Jane a definite hit.
Despite the message – girl's can be pilot's too – the last line was particularly good.
Whatever the weather, we work together,

Hurray for Girl – and Boy – Power Forever.
Final verdict
After the 'girl bashing' in the book I reviewed last, it was nice that the story fostered some much needed gender co-operation. In fact, I grew to like the pink plane. This was a book that showed girls can be girly, as well as strong and able.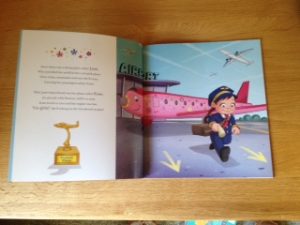 British Books Challenge
Pilot Jane and the Runaway Plane is written by Oxford-based writer, Caroline Baxter so it was a perfect choice for my British Books Challenge.  You can read my previous reviews here.
Suzie xx
---
---
---